What's On this Weekend? Saturday 10th and Sunday 11th October
FUN & FANTASTIC THINGS TO DO WITH THE KIDS IN LONDON THIS WEEKEND
SATURDAY 10TH & SUNDAY 11TH OCTOBER
FAMILY ARTS FESTIVAL 2015, UK WIDE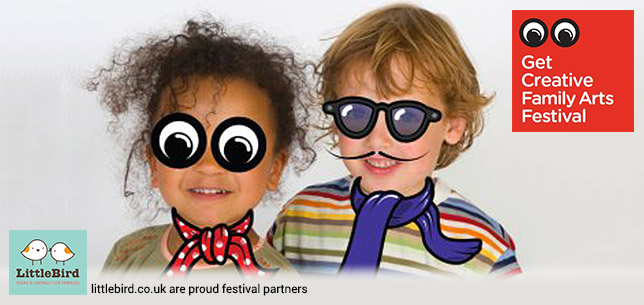 LittleBird are proud partners of the Family Arts Festival 2015 – a UK-wide festival of art events, designed with families in mind. This year's festival is the longest running festival so far, covering three weeks including half term, offering over 5,000 UK wide events.
This weekend, in London,  you can choose from Dad Day in Richmond inviting dads to join in workshops exploring different themes and techniques including animation, printmaking, construction and painting, there's a  Cartoon and Family Day over in Kings Cross offering interactive fun with cartoonists, illustrators and designers plus a Make and Do and a Family Barn Dance, both in Camden and a DIY printing workshop in Walthamstow. As we said, something for everyone! To find your nearest event, pop your post code in here.
When: The Family Arts Festival runs until 1st November
Where: Across the UK, click here to find your nearest event.
Age: Varies
Cost: Event dependent
LittleBird's Top Tip: Get into the spirit of the Family Arts Festival and have some eye boggling fun with the festival's Family Portrait app – say cheese!
HORRIBLE HISTORIES IN HACKNEY – SAVE UP TO 32% WITH LITTLEBIRD
LAST CHANCE TO BUY – FINISHES AT WEDNESDAY EVENING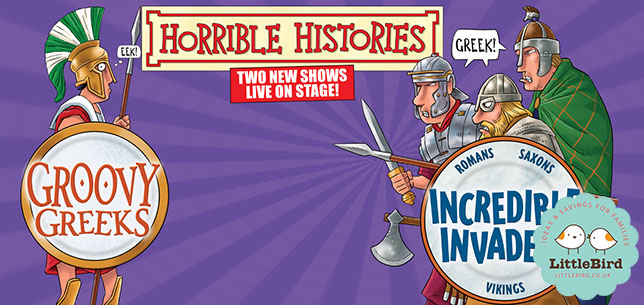 We all want to meet people from history. The trouble is everyone is dead! So it's time to prepare yourselves for Horrible Histories live on stage. Back with two brand new shows featuring 3D 'bogglevision' and all the nasty bits left in – this is one for the whole family to oooh and aahhh and go yyuuuuk over! Choose your history, or ask the kids what topics they are studying at school – is it Groovy Greeks (complete with savage Spartans and angry Athens) or Incredible Invaders (ruthless Romans, crazy Caratacus & savage Saxons) and enjoy this perfectly grisly treat for the whole family.
When: Friday 9th – Sunday 11th October, various times
Where: Hackney Empire, E8 1EJ
Age: 5+
Cost: £13.50 with LittleBird, saving you up to 32% – buy now
LittleBird's Top Tip: Love theatre? Why not go on an adventure in this interactive family concert at the Barbican – save up to 40% – and enjoy the classic Michael Morpurgo's 'I Believe In Unicorns' – save up to 41% this half term.
ALICE IN WONDERLAND AT THE WIMBLEDON BOOKFEST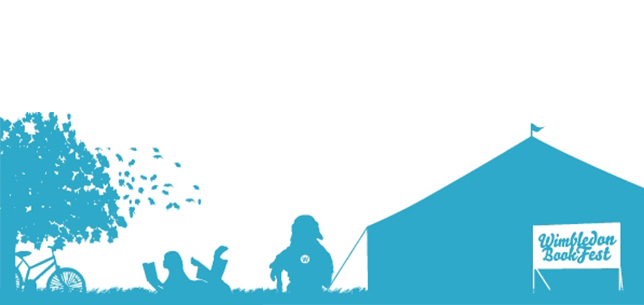 Part of the Wimbledon Bookfest (coming to a close this weekend) celebrate 150th anniversary of Alice's Adventures in Wonderland and don't be late to the tea party! This Saturday morning head to Wimbledon Common and let the Mad Hatter take the kids on a fun adventure through Wonderland to find the White Rabbit. Offering an imaginative story-trail re-telling of the classic novel, there are craft activities to be enjoy too at this interactive event. Fancy dress is encouraged.
When: Saturday 10th October at 10.45am
Where: William Morris Tent, Wimbledon Common, SW19 5NR
Age: 6+
Cost: £10 per ticket
LittleBird's Top Tip: A festival favourite, the Wombles are scheduled to make an appearance on Sunday.  Musician and writer Julian Butler promises storytelling plus a sing-a-long of Wimbledon favourite eco warriors – the Wombles.
SELGASCANO AT SERPENTINE PAVILION, HYDE PARK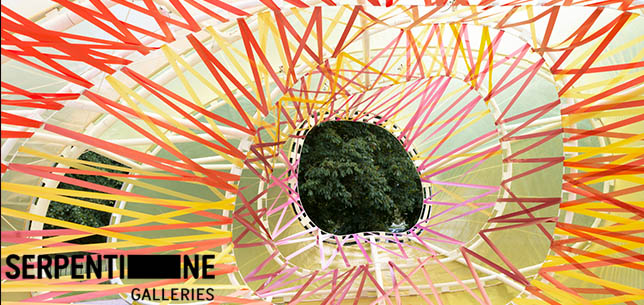 With only a week or so left to see, experience and enjoy the Serpentine Pavilion temporary structure – if you haven't made it thus far, make a date this weekend. This year's architects Spanish duo Jose Selgas and Lucia Cano are the creative talents behind the multi-coloured, organic outdoor art that appears cocoon-like and ethereal, shimmering and moving in different lights. Home to a cafe (run by Fortnum & Masons), it offers a social space to interact, ponder, excite and enjoy. Pick up a free family trail that includes a brightly coloured ribbon.
Situated in Hyde Park – there is so much to do, it's a perfect family day out. With some autumnal sunshine, you can go boating on the Serpentine (a 5 minute walk from the Pavilion) or pack a towel and head to Diana Memorial Fountain to get your feet wet.  If it's a bit rainy, check out what's going on at the Serpentine Galleries, make sure you visit the shop – it has some beautiful children's books plus a secret back room, a treasure trove of heavily discounted books and remember – the Selgascano is undercover!
When: until 18th October
Where: Serpentine Pavilion, W2 3XA
Age: Families
Cost: Free
LittleBird's Top Tip: Make a day of it and pack your swimming bags and refresh in the Serpentine Lido or let the kids play in  Diana's Memorial Playground – inspired by Peter Pan, the playground has a giant pirate ship as its centrepiece plus there's a great cafe too!
THE BIG DRAW, UK WIDE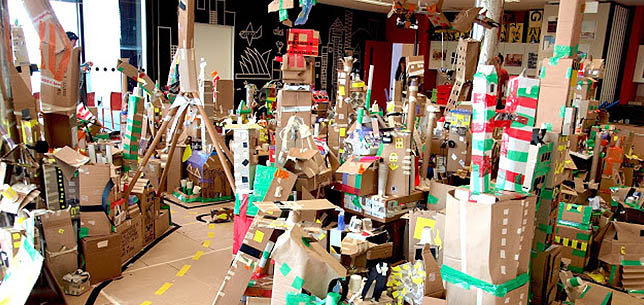 The Big Draw 2015 theme is Every Drawing Story Tells A Story and there are 100s of events throughout the UK to inspire, celebrate and enjoy with the kids.
As the festival continues this weekend, there's plenty to inspire. There's a free Palladian iPad Drawing Workshop at the RIBA on Saturday (ages 12+) or head to Cass Art in Kingston for the Global Cardboard Challenge – a room full of cardboard boxes + 25 kids + 3 hours (ages 5 -12).  Merton Abbey Mills are hosting a Big Draw Day that promises a day of art-based fun for all the family with giant canvases, plus chalking and other activities and on Sunday, the Pumphouse Gallery is using thread to draw with at their Sunday Social. To find the nearest event to you, click here.
When: The Big Draw runs until 31st October
Where: Across the UK, click here to find your nearest event.
Age: Varies
Cost: Event dependent
LittleBird's Top Tip: If you fancy creating your own art at home, take inspiration from The Big Draw's Gallery and Tate Kids is rather fabulous too.
PLANTASTIC GARDENS AT THE HORNIMAN MUSEUM, FOREST HILL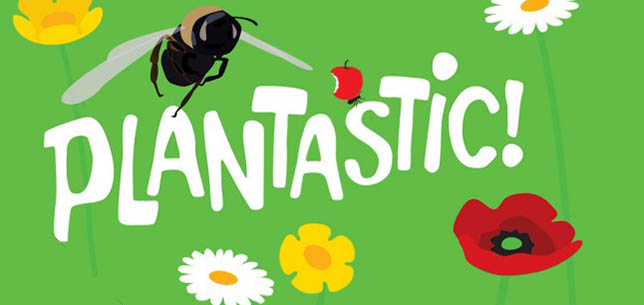 Ever wondered how a bee sees the world? How can a plant move when it's rooted in the ground? And why is dung so important? Plantastic brings the miniature world of plants to life on a massive scale. From super seed pods and exploding cucumbers to sun-seeking flowers and a huge crawl-through root system, interactive exhibits and games will bring visitors up close to all kinds of fantastic plant life, to reveal how plants feed, move, reproduce and survive.
The Horniman also has a weekend farmers market and free hands on family workshops  plus their art maker's sessions at the weekend. This Saturday create your own toadstool mobile (£3 per ticket). With the cafe and gardens you could quite easily spend the whole day here and why not?
When: Plantastic runs until 1st November
Where: Horniman Museum, SE23 3PQ
Age: Families
Cost: Although entry to the museum is free, the Plantastic exhibition is ticketed – a family ticket costs £16.50
LittleBird Top Tip: The Horniman has an aquarium, a family ticket costs £7.50 or you can get a combined ticket to both Plantastic and the Aquarium for £22
WE'RE GOING ON A BEAR HUNT AT JACKSON LANE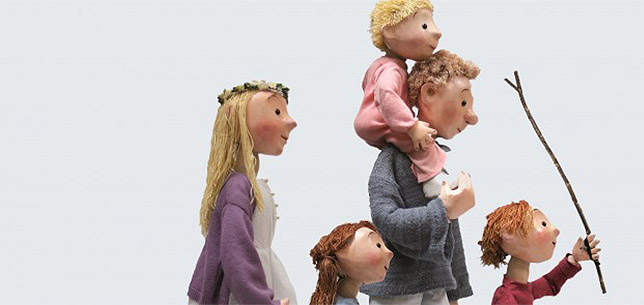 We're going on a bear hunt, we're going to catch a big one – an iconic line from an iconic story – well known and well-loved and now on stage!  After a sell-out run in 2013, Jackson Lane has got the Little Angel Theatre production back at last. Michael Rosen's renowned family adventure is brought to life with entrancing puppetry and music and lyrics by renowned singer-songwriter Barb Jungr.
A family go on an expedition of a lifetime – running down the grassy bank, wading through the cold river, squelching over the oozy mud, stumbling into the dark forest, then peering into a cave… what will they find?
When: Saturday 10th & Sunday 11th October, 11am, 1.30pm & 3.30pm
Where: Jacksons Lane, N6 5AA
Age: 2+
Cost: £9.95
LittleBird's Top Tip: If your kiddies love the book, then head to Children's Story Centre Discover in Stratford for their new interactive exhibition dedicated to Michael Rosen and his famous books including the beloved Bear Hunt. It opens 16th October and runs until 20th April 2016.
DINOSAUR ADVENTURE GOLF, CHINGFORD, NORTHOLT & BARNET
SAVE 50% WITH LITTLEBIRD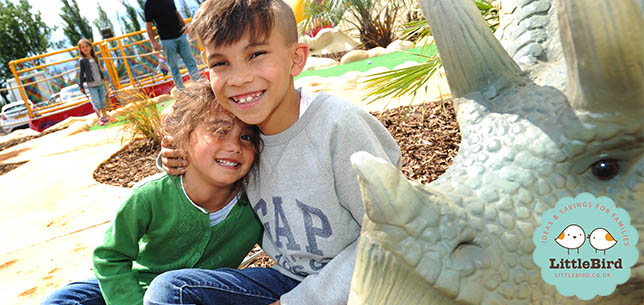 Enjoy the perfect combo of dinosaurs and crazy golf this weekend with the kids. Dinosaur Adventure Golf offers you and the kids 18 holes of Jurassic golfing action. There are fossil rock paths and tropical palm trees and a deep lagoon as well as life size dinosaurs that move, breathe and roar. Let the kids play in and around lagoons, jungle marsh and fossil rock paths. If you can't make it this weekend, don't worry, your vouchers are valid throughout half term until 31st October.
If your kids prefer Pirates to dinosaurs, then head to Pirate Cove over in Bluewater – you can get 50% off there too with LittleBird, with vouchers valid throughout half term.
When: open daily from 9am til dusk
Where: Dinosaur Adventure Golf, UB5 6QZ.
Age: Families
Cost: 50% off all tickets with LittleBird, tickets starts at £1.60 – buy now!
LittleBird's Top Tip: If your kiddies love and adventure like to get hands on, enjoy our FREE downloadable vouchers entitling you and the family to 50% at Diggerland – exclusive to LittleBird Members only : )
ULLA'S ODYSESSY AT KINGS PLACE, KINGS CROSS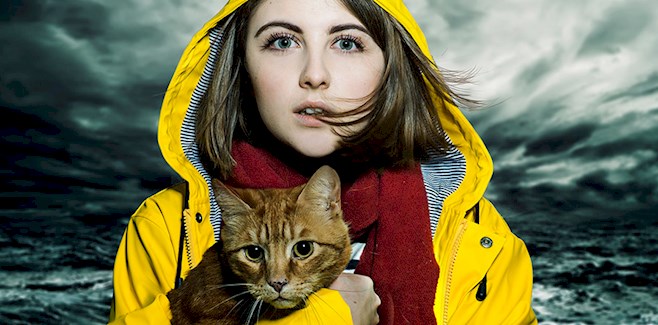 Head to King's Place this Sunday and introduce the kids to this fun and feisty family-friendly opera – Ulla's Odyssey. The production is inspired by Homer's Odyssey and includes live music and puppetry. A World Premiere from award winning OperaUpClose, and part of the Family Arts Festival, these guys have also won a prestigious Olivier Award too!
Fourteen year old Ulla is attempting to become the youngest person to sail the world single-handedly with only her cat Binnacle for company as she navigates the high seas. Adventures ensue as she encounters a Cy-ops, a one-eyed, over-keen robotic customs official who mistakes her cat for smuggled contraband, and Sylla, a dangerous sea creature whose body and mind have been horribly twisted by radioactive rubbish dumped into the ocean.
When: Sunday 11th October, 4pm
Where: King's Place, N1 9AG
Age: 7+
Cost: Online ticket prices – £19.50 Adult, £12 Under 14s, £36 Family of 3, £54 Family of 4
LittleBird's Top Tip: If you can't make this performance, the show returns on the following Sundays; 18th October, 15th & 22nd November.
CASA FESTIVAL AT RICH MIX IN SHOREDITCH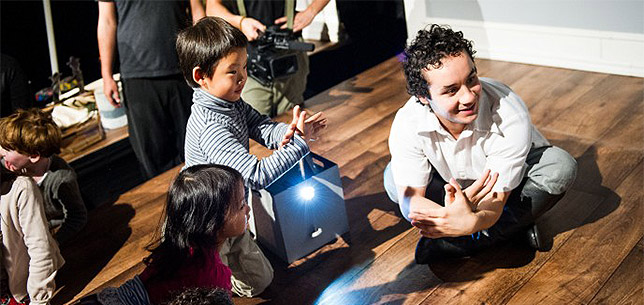 Get kids connecting to the arts and head to Rich Mix, Shoreditch's cinema and arts centre, this Sunday. Celebrate the very best of Latin America at this all day free family friendly event CASA Festival.  With activities for every interest, there really is something for everyone and every age. Choose from  mask painting and salsa lessons, mural painting, singing and poetry writing, meet artists, enjoy  theatre performances, short films with Q&As and much more – there's even a free Tango class!
Delicious Colombian Food from Rich Mix's  pop-up Leños y Carbon restaurant will be served all day long and note events run at specific times throughout the day, so check timings here to ensure you don't miss out on your favourite event – when's that free Tango class again?
When: Sunday 11th October, 11am – 8pm
Where: Rich Mix, E1 6LA
Age: Families
Cost: Free
LittleBird Top Tip: A hop, skip and a jump from Brick Lane, why not enjoy a Nutella bagel from Beigel Bake or head to the Old Truman Brewery and take a peek at the new interactive exhibition Dressed by Angels – showcasing 175 years' worth of costumes from film, TV & theatre from Angel Costumes.