What's On This Weekend – Saturday 25th and Sunday 26th July
FUN & FANTASTIC THINGS TO DO WITH THE KIDS IN LONDON THIS WEEKEND 
SATURDAY 25TH & SUNDAY 26TH JULY
ARCHIKIDS IN THE CITY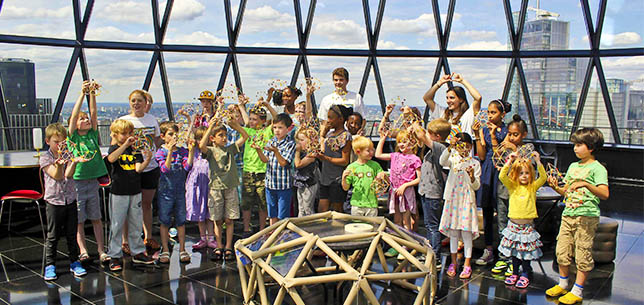 Whether you have a budding architect, artist, engineer, builder or creator in your midst – the Archikids Festival is not be missed. there are over 35 amazing activities and workshops taking place this weekend at some great venues
Choose from Asteriodtecture (use the materials that survived the impact of an asteroid to create a safe shelter), Build your own Bubble ( create your own lightweight structures), Design the skyline (work with architects to redesign the city's skyline from the 7th floor overlooking the City of London) or  become an Eco-Explorer (Design and make your very own Honeycomb Home at the garden rooftop of 6 Bevis Marks) – for a full list of activities click here and to download the programme as a pdf, click here.
When: Saturday 25th & Sunday 26th July, 10am – 4pm
Where: Various venues within the City's Square Mile
Age: Families
Cost: Free
LittleBird's Top Tip: The Festival is taking place within  five  Festival Hubs in the City of London's Square Mile; 30 St Mary Axe (The Gherkin!), Broadgate City of London, 6 Bevis Marks, Aldgate and Guildhall. Each Hub hosts a number of festival activities and are within 10 minutes walking distance from each other.
SUMMER FESTIVAL AT ALEXANDRA PALACE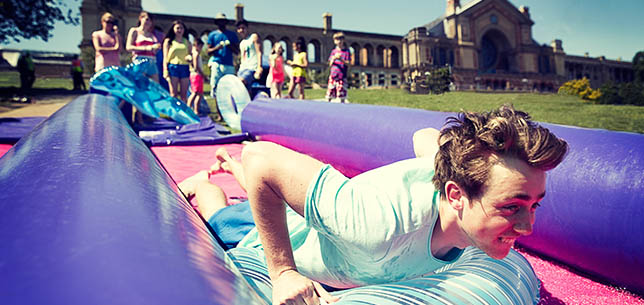 Celebrate summer this Saturday at Alexandra Palace's Summer Festival! You and the kids are invited to a fun-packed day of activities and events set within the 196 acre Alexandra Park and of course the Palace itself. Enjoy an array of fun-filled activities including a giant water slide  150m long (you'll need to book a ticket and of course take your swimming attire and towels), an outdoor cinema, silent disco (check out the kids breakfast club), live music on two stages, two fun fairs with all the traditional rides and ice skating. Plus there's a sports day packed full of activities and craft-making as well as street food, history tours of the Palace, boat races and even Proms at the Palace.
When: Saturday 25th July, 11am – 11pm
Where: Alexandra Palace, N22 7AY
Age: Families
Cost: Free with tickets required for some activities.
LittleBird's Top Tip: Look out for LittleBird at our friends' mangozookidz face painting table – we'll be handing out free BEAR paws and stickers!
TURBINE FESTIVAL ON THE SOUTHBANK  
Don't miss the Turbine Festival this Saturday when Tate Modern's Turbine Hall becomes your playground.  Be inspired and take part in this celebration of music, performance, film, installations, food and activities. Enjoy the chance to explore and create alongside artists, dancers, chefs, DJs, poets, musicians and more.
There is a vast range of drop-in activities where you and the kids can learn how to beatbox, create poetry, sew images of changemakers onto card, learn how to publish your own future city zine to name just a few. Step into an Imaginary Record Shop, make your own 7" sleeve and add it to the collection and pop into the hair salon to re-imagine your identity through hairdressing and look out for performances by Afrikan Boy, Throwing Shade, The Fish Police and Hobbit throughout the day.
When: Saturday 25th July, 12.30pm – 9.30pm
Where: Tate Modern, SE1 9TG
Age: Families
Cost: Free
LittleBird's Top Tip: Tate's online art destination for 5-12s is a great website for a bit of arty screen time during the Summer holidays. The kids can play games, write stories, read the blog, watch kids' films about Matisse, Andy Warhol and Anish Kapoor and share art with other kids around the world!
THE BIG DIG AT THE MUSEUM OF LONDON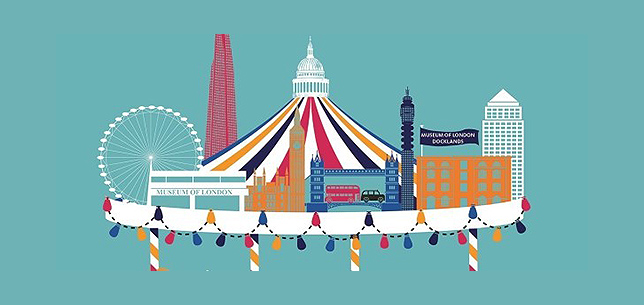 If you or the kids are Indiana Jones wannabes then the Museum of London has the perfect archaeological adventures for you. Let the kids dig up the past and put their hands on history! Part of the Museum of London's Festival of Archaeology, this Saturday sees the beginning of the Big Dig.  Get kitted up with a trowel and a hard hat and search for artefacts in your very own trench just like a real archaeologist and help put together the evidence of the world of early Londoners.
While you're here, why not take the kids to the Design a museum of the future drop in art workshop, part the Archikids Festival this weekend.
When: until 6th August
Where: Museum of London, EC2Y 5HN
Age: 5+
Cost: Free, tickets allocated on a first come, first served basis 90 minutes before each session.
LittleBird's Top Tip: Kids eat free at the London Wall Restaurant and have you heard about the Museum of London's Gladiator Games? Swords, shields, spears and cheers are promised as the battles commence on the site of London's only Roman amphitheatre this August.
BE A NATURE EXPLORER AT THE LONDON WETLAND CENTRE IN BARNES
•Runs throughout the Summer Holidays•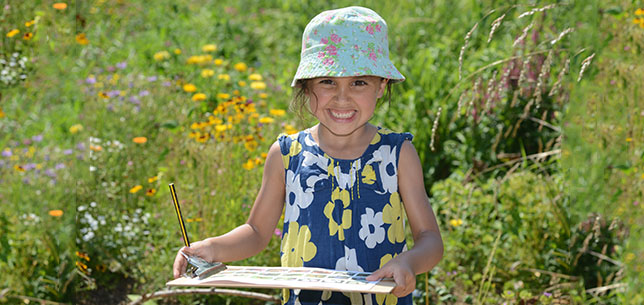 Let the kids pick up their passport to a summer of exploration at the London Wetland Centre and become A Nature Explorer.  Passports include eight wildlife themed activities and for every challenge the kids complete, they get a sticker, making them an official Nature Explorer!
Do they know how to track creatures or identify animal poo? Have they ever seen the insect that can fly better than a helicopter? Have they ever tried pond dipping and discovered mini beast and bugs? The Nature Explorer Passport Desk will be open from 10am until 5pm each day throughout the summer holidays and you and the kids to explore and discover at your own paces.
The London Wetland Centre is a great family day out; there's the outdoor adventure playground with zip wires, climbing walls, giant water vole tunnels and water games, the Discovery Centre and Pond Zone!
When: 25th July until Monday 31st August inclusive
Where: London Wetland Centre, SW13 9WT
Age: Families
Cost: Included in normal admission (adults £12.75, children £7).
LittleBird's Top Tip: Take a pack lunch as there are an abundance of picturesque picnic spots and don't miss the Otters: feeding times are 11am & 2pm daily.
Enter our competition to win tickets here.
THE CHILDREN'S COMMISSION 2015 AT THE WHITECHAPEL GALLERY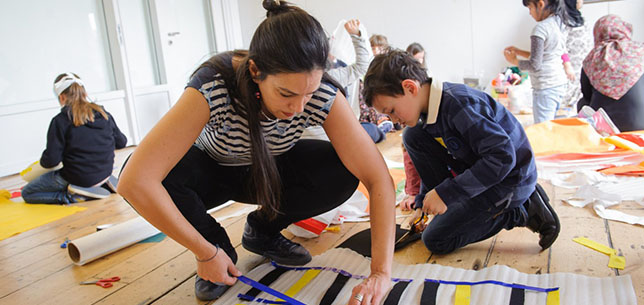 Children's Commission 2015 is Brazilian artist Rivane Neuenschwander's.  The Whitechapel Gallery hosts The Name of Fear  – an installation that explores childhood fears in a display of vibrant handmade capes. Working with children aged 7 to 9 from across London a collection of fears ranging from 'heights' and 'bees', to 'strangers' and 'nightmares', and the more abstract 'silence' have been explored.
This Saturday is Family Day at the Whitechapel Gallery so be inspired by the exhibition (there's a new activity trail to help the kids understand the show) and then head to the Creative Studio and let the kids transform their fears into their own colourful cape. Look out for a many legged monster sculpture.
There's a lovely cafe offering a yummy looking seasonal menu plus it serves breakfast until 4pm. A great place to hang out and discuss fears and cape making.
When: Saturday 25th July, 12pm – 4pm
Where: Whitechapel Gallery, E1 7QX
Age: Families
Cost: Free
LittleBird's Top Tip: You're not far from Brick Lane and  The Power of Poison exhibition at the Truman Brewery – book your tickets through LittleBird and save up to 34%. For a unique experience – head to the Cereal Killer Cafe – the UK's first specialist Cereal cafe. Check out their cereal cocktails – mine's a Unicorn Poop – nom nom…
EID FESTIVAL 2015, TRAFALGAR SQUARE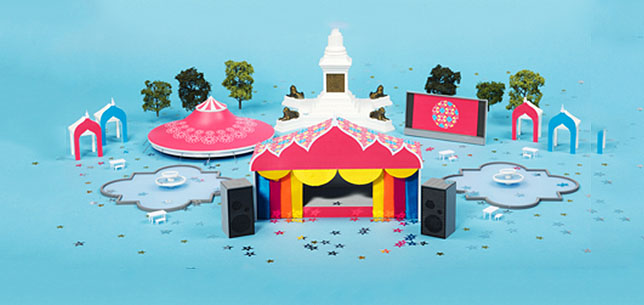 Eid Festival in Trafalgar Square this Saturday marks the end of Ramadan, the Islamic holy month of fasting. Everyone is invited to celebrate and highlights include live music and performances, as well as plenty of fun activities for the kids to try like face-painting, henna and calligraphy.
Go for lunch or stay for tea and sample a host of delicious cuisines from across the world including Malaysian, Turkish, South Asian, Egyptian, Lebanese, Indonesian, and Arabic.
When: Saturday 25th July, 12pm – 6pm
Where: Trafalgar Square, WC2N 5DN
Age: Families
Cost: Free
LittleBird Top Tip: If the crowds get too much, take the kids for a wander around Take One Picture the National Gallery's flagship project for primary schools – it's free.
ROBOTS AT THE SCIENCE MUSEUM – SAVE 25% WITH LITTLEBIRD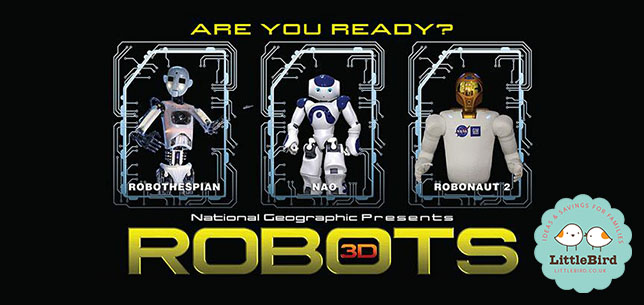 •Runs throughout the Summer holidays•
What does it take to make a humanoid robot? A robot that can do anything we can but without the benefit of a human brain? Take the kids to the Imax at the Science Museum and find out how.  Robots  asks these questions and many more.
Let Robot "actor" RoboThespian introduce you and the kids to CHIMP, ATLAS, PR-2, Herb the Butler, ICUB, and others as you're taken on a tour of what's going on in robotics labs around the world; the latest developments, successes and failures.
While you're at the Science Museum, visit Cravings  and explore how food affects your body, brain and eating habits and of course, no visit is complete without visiting the Launchpad (8+) or The Garden (7 and under).
When: daily until 31st August, 11.30am & 5.50pm
Where: Science Museum, SW7 2DD
Age: 8+
Cost: Save 25% on tickets with us! From £6.75. Book here
LittleBird's Top Tip: If you can't go this weekend, enjoy the experience throughout the summer holidays – buy your vouchers here. Plus enjoy the added option to buy a 50% off experience in the Fly Zone Studio!
NATIONAL PARALYMPIC DAY IN STRATFORD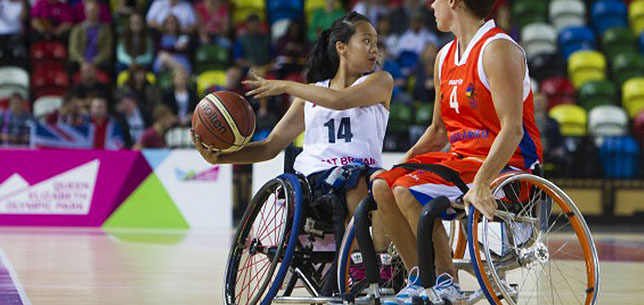 It's all happening this Sunday at the Queen Elizabeth Olympic Park. It's National Paralympic Day featuring Mayor of London's Liberty Festival and Anniversary Games. Watch world class sports, enjoy a free arts festival with live music, dance and aerial theatre, plus lots of family-friendly fun.
There's plenty of 'Come and Try' sports taking place throughout the day including athletics, judo and wheelchair tennis. You can book tickets to see Paralympic superstars Ellie Simmonds, Ollie Hynd and Jessica-Jane Applegate at the London Aquatic Centre and as part of the Sainsbury's Anniversary Games (24th, 25th & 26th July) you can get tickets to see Mo Farah, Jessica-Ennis-Hill and David Weir competing over the three-day athletic spectacular.
When: Sunday 26th July, 11am – 7pm
Where: Queen Elizabeth Olympic Park, E15 2ER
Age: Families
Cost: Free and ticketed events
LittleBird's Top Tip: While you're in the park, a visit to  Beach East is a must. You'll find plenty of sand, gigantic paddling pools, stalls and food all at Stratford Waterfront, next to Westfield. It's free and open daily 10am – 10pm.
BEACH ART ON THE SOUTHBANK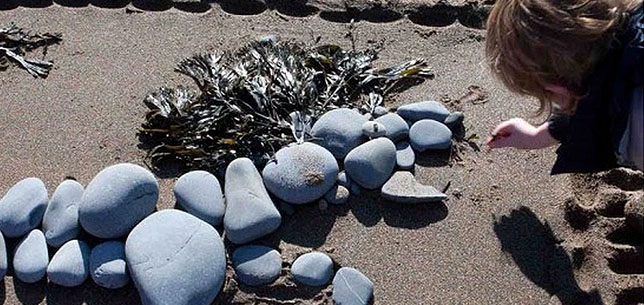 Take your bucket and spade and join Muddy Puddles this Sunday for an afternoon on the Thames beach and Make Amazing Beach Art. In partnership with Going Wild, let the kids use nature to create masterpieces in the sand, inspired by Going Wild's newly published title The Beach Book.
If you can't make this Sunday's event but love the idea of wild time, have a look at Going Wild – you'll find inspirations for places to go in the UK this summer and plenty of things to do wherever you are during the summer holidays.
When: Sunday 26th July 1.30pm – 3.30pm
Where: Festival Pier, in front of the Royal Festival Pier
Age: Families
Cost: Free but you need to RSVP to natasha.ascott@muddypuddles.com
LittleBird's Top Tip: The Southbank's  Festival of Love  is in full swing this summer  along with the beach and art installations galore including Love Story by Richard Woods and the fabulous Appearing Rooms by Jeppe Hein – prepare to get soaked and all the name of love!