What's On This Weekend? Saturday 1st & Sunday 2nd August
FUN & FANTASTIC THINGS TO DO WITH THE KIDS IN LONDON THIS WEEKEND
SATURDAY 1ST & SUNDAY 2ND AUGUST
KIDS WEEK IN LONDON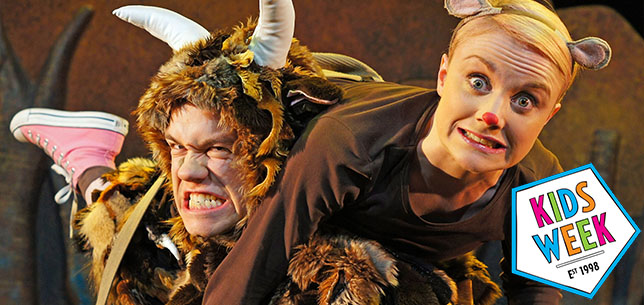 This Saturday sees the return of Kids Week running from 1st – 31st August. Now in its 18th year, it's bigger and better than ever with a fantastic array of West End theatre, workshops and backstage fun on offer. During Kids Week a child aged 16 or under can go free to participating shows when accompanied by an adult paying full price. Up to two extra children's tickets can also be purchased at half price, per transaction. Most West End shows take part so there is a veritable feast to choose from including Charlie & The Chocolate Factory, War Horse, The Lion King, The Curious Incident Of The Dog In The Night-Time, Alien's Love Underpants and The Gruffalo.
Kids Week have teamed up with a number of West End restaurants where the kids can eat for free, check out the eateries involved here.
When: until 31st August 2015
Where: Various theatres, all over London
Age: Families
Cost: Adult prices vary, kids go free
LittleBird Top Tip:  Enjoy plenty of savings on theatre trips with the kids this summer with LittleBird including Michael Morpurgo's I Believe In Unicorns  at the Vaudeville Theatre, Lord Of The Dance at the Dominion and The Basil Brush Show's UK tour to name a few.
BARBARA HEPWORTH AT TATE BRITAIN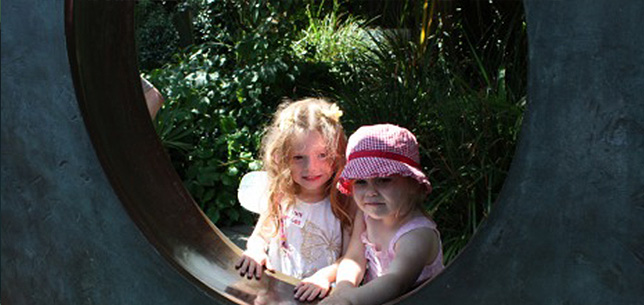 Marvel at the bold and beautiful sculptures of the legendary Barbara Hepworth at Tate Britain. Take the kids to the Learning Gallery and discover Desire Lines , inspired by the exhibition, you'll be asked  to explore, weave and map lines to make your own personal contribution to a collective creation that will grow throughout the summer. While you're here, don't miss Tate Britain's first ever garden installation, the Summer Garden, inspired by a Barbara Hepworth textile design.
In need of refreshments? The Tate cafes offer children's menus and provide crayons and activities to keep little hands busy and check out the Pocket Art Gallery App – make your own gallery together: a great digital keepsake of the day.
When: Until 25th October 2015
Where: Tate Britain, SW1P 4RG
Age: Families
Cost: Adults £18, under 12s go free
LittleBird's Top Tip: Experience sound-scapes especially created for families by musicians and sound artists. To head to the Clore Centre and borrow a set of headphones and an MP3 player and discover what sound art is – there are nine different trails to choose from. Sound-scapes is available at weekends plus Thursdays & Fridays in the school holidays at both Tate Britain and Tate Modern.
PLAY TENNIS FOR FREE, UK WIDE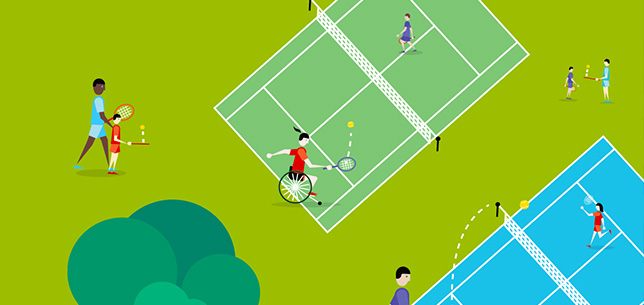 Anyone for tennis? If Wimbledon has left you and kids inspired to either pick up your rackets again or try tennis for the first time, then enjoy free tennis with the Great British Tennis Weekend.  There are thousands of free events taking place this Saturday and Sunday across the country for the whole family  offering everyone  the chance to experience Highland Spring Mini Tennis, Cardio Tennis, coaching and of course some good ol' free play.
Whether you and kids have never picked up a racket before or you're all seasoned players – this weekend is for all abilities; you just need to be to be ready to give it ago. Rackets and balls will be provided but you do need book your session in advance.
When: Saturday 1st & Sunday 2nd August
Where: UK wide, simply enter your postcode here and find your nearest venue
Age: Families
Cost: Free
LittleBird's Top Tip: If football is the favourite in your house, check out The FA Skills for free holiday football coaching or find out more about activities for the kids for £1 this summer with Better.
FAMILY DAY CHILDREN'S SUMMER FETE
The Annual Benjamin Franklin House Children's Summer Fete takes place this Saturday, held in the gorgeous gardens of Leighton House Museum. The Summer Fete is a collaboration with the world of London heritage with special guests from Charles Dickens Museum, Dr Johnson's House, the Geffrye Museum, Kelmscott House and the Ragged School Museum.
Enjoy children's activities and workshops a plenty from all the museum's taking part including Print This, a workshop for all the family exploring Franklin's contribution to printing, which allows the kids to print their own creation using everyday objects.
When: Saturday 1st August 11am – 4pm
Where: Leighton House Museum, W14 8LZ
Age: Families
Cost: Free (Donations welcome)
LittleBird Top Tip: You're not far from Holland Park; a perfect place for some wild time (for inspiration & ideas, enjoy Project Wild Thing), plus there's a playground, sports facilities, a café and the beautiful Japanese Garden – Kyoto Garden.
PRUDENTIAL RIDELONDON FREECYCLE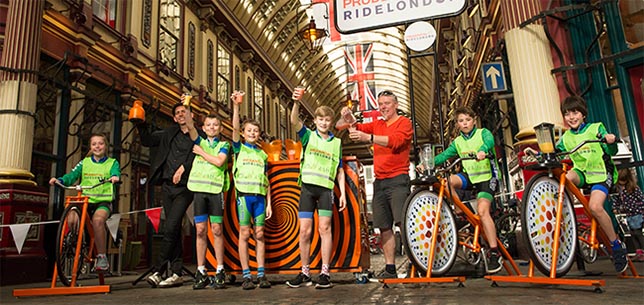 Prudential RideLondon FreeCycle this Saturday offers families the chance to enjoy a traffic-free circuit on closed roads through central London passing some of the capital's most iconic landmarks. Everyone is welcome, no matter what their age or ability. You and the kids will be able to cycle along the route at a leisurely pace and as many times as you like.  There are six different Festival sites you can stop off at along the way where there will be a range of bicycle-based entertainment and activities to enjoy including music zones, music bikes, bands on bikes, stilt bicycles, Penny Farthings, stagecoaches and rickshaws as well bike doctors on hand in case of any technical problems. You can register for Prudential RideLondon FreeCycle at www.PrudentialRideLondon.co.uk – it's free!
When: Saturday 1st August, 9am – 4pm
Where: Download the map here (remember you need to register)
Age: All ages
Cost: Free
LittleBird Top Tip: Prudential RideLondon-Surrey Classic on Sunday sees 150 of the world's top cyclist's start from Horse Guards Parade – spot superstars of cycling, including Sir Bradley Wiggins, Mark Cavendish, Andre 'The Gorilla' Greipel, Laura Trott and Dani King.
ALICE IN CARTOONLAND, HOLBORN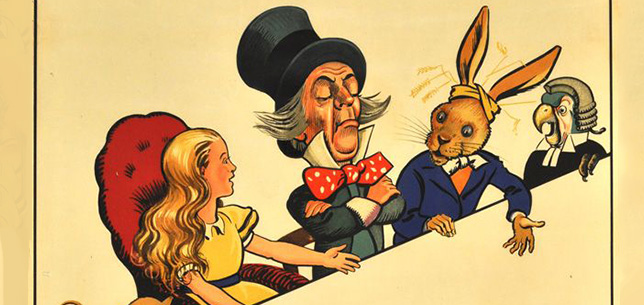 2015 is Alice in Wonderland's year. You can enjoy theatrical experiences and afternoon teas in and around London – Enjoy LittleBird's blog about all things Alice this year. And now you can enjoy Alice in Cartoonland as the Cartoon Museum charters Alice's many misadventures at the hands of cartoonists, caricaturists and satirists, animators and graphic artists through 150 years of parodies and pastiches, jokes and gags aimed at making political points, social comment or just simply to make us laugh. Enjoy Alice posters by Gilroy advertising Guinness, pages from comics and graphic novels, cartoon strips featuring Flook and Snoopy, as well as original animation art from film and TV versions of Alice.
When: until 1st November 2015
Where: Cartoon Museum, WC1A 2HH
Age: Families
Cost: Adults £7, under 18s free
LittleBird' Top Tip: You're just round the corner from the British Museum – always worth popping into and enjoying all the free family activities offered; trails, hands on experiences, art materials and backpacks.
DINOSAUR ADVENTURE GOLF, EALING – SAVE 50% WITH LITTLEBIRD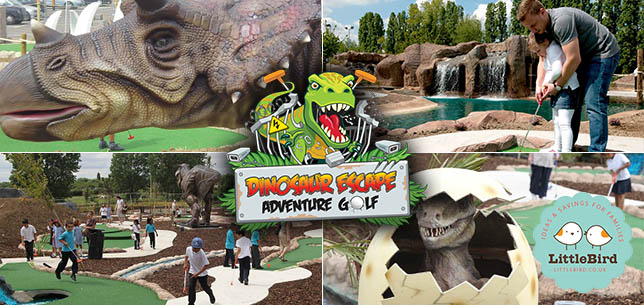 Enjoy the perfect combo of dinosaurs and crazy golf this weekend with the kids. Dinosaur Adventure Golf offers you and the kids 18 holes of Jurassic golfing action. There are fossil rock paths and tropical palm trees and a deep lagoon as well as life size dinosaurs that move, breathe and roar.
If you're in the car, you're not far from Westfield London; shopping, food and home to a Vue Cinema; enjoy Kids AM running throughout the summer holidays when you can enjoy films from £1.75 in the mornings.
When: open daily from 9am til dusk
Where: Dinosaur Adventure Golf, UB5 6QZ.
Age: Families
Cost: 50% off all tickets with LittleBird, tickets starts at £1.60 – buy now!
LittleBird's Top Tip: If you can't make it this weekend, don't worry, your vouchers are valid until 30th September.
FASHION ON THE RATION AT THE IMPERIAL WAR MUSEUM, SOUTHWARK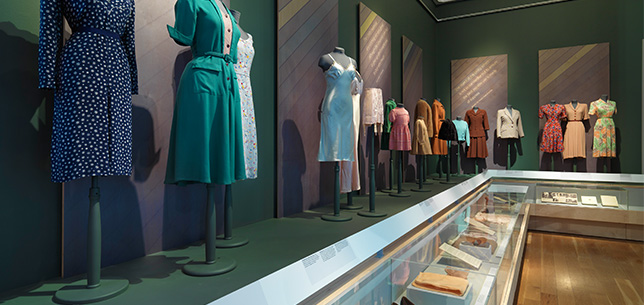 *Runs throughout the summer holidays*
Fashionistas in your midst? Head to the Imperial War Museum this weekend and enjoy Fashion on the Ration. Discover how fashion survived under the strict rationing of 1940s Britain and even flourished in new and unexpected ways due to the creativity and innovation of those living through the Second World War. It reveals what life was really like on the home front in wartime Britain.  Check out 'onesies' to wear in the air raid shelter as well as jewellery created from aeroplane parts.
If you have children aged 11+, enjoy the art workshops where the kids can get creative and design their own 1940s scarf – workshops run until 16th August.
When: until 31st August
Where: Imperial War Museum, SE1 6HZ
Age: Families
Cost: Adults £10, Children £5
LittleBird Top Tip: If you just fancy the museum, entry is free. Take a picnic if it's a nice day as the Museum is situated in the Geraldine Mary Harmsworth Park – a beautiful park with a playground, cafe, Ice Age Tree Trail and Tibetan Peace Garden.
AGAINST CAPTAIN'S ORDERS AT THE NATIONAL MARITIME MUSEUM, GREENWICH
*Runs throughout the summer holidays*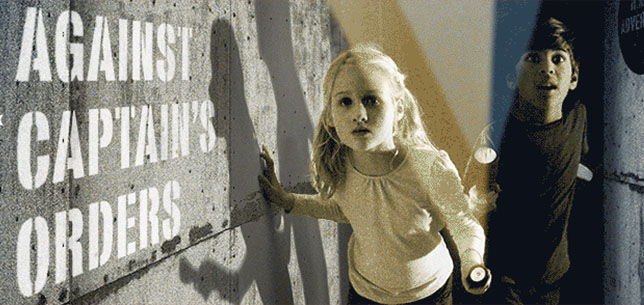 Get ready to experience history like never before as you and your family join the crew of HMS Adventure in this ground-breaking new show. Prepare for the adventure of a lifetime through the museum's incredible wealth of maritime history and artefacts.
Meet fearless curators, don a lifejacket, and step into the heart of the action. Anyone brave enough to get on board will scarcely believe what will happen next.
With so much history secured in one museum, so many doorways to other times and other worlds, Against Captain's Orders: a Journey into the Unchartered promises to be exciting, enlightening, and perhaps a tiny bit dangerous…
When: until 31st August
Where: National Maritime Museum, SE10 9NF
Age: 6 – 12
Cost: £19.75
LittleBird's Top Tip: Greenwich Market is a perfect place to grab a bite to eat and have a wander around the markets and if it's a nice day, take your market morsels and find a seat by the Cutty Sark – maybe even fit in a walk under the Thames.  If you have any energy left – enjoy Greenwich Park and visit the Astronomy Centre– it's free.
SUNDAY SOCIAL: PLACE, FAMILY AND HOME AT THE PUMPHOUSE GALLERY, BATTERSEA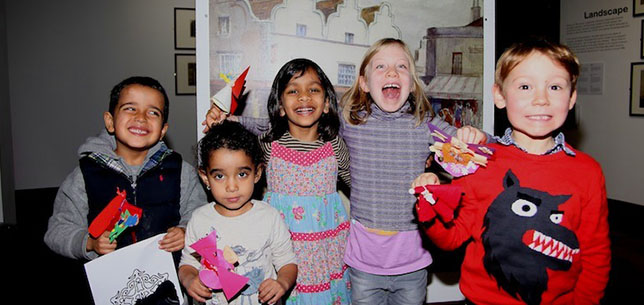 In the centre of Battersea Park you'll find the Pumphouse Gallery  – a gallery that looks to explore the different ways art can be made, experienced and interpreted and this coming Sunday's workshop does exactly that.
The current exhibition What Is Home? (running until 9th August) asks us what home is to us; a building, the town or country we live in? This Sunday, create a family tree, inspired by exhibiting artist Manal Al Dowayan's work, created with cosmic patterns infused with silvery stars that are often seen within Arabic architecture. Drop in, create and explore what is home to you?
When: Sunday 2nd August, 12pm – 4pm
Where: The Pumphouse Gallery, SW11 4NJ
Age: Families
Cost: Free
LittleBird's Top Tip: Situated in the historic Battersea Park, there's a playground for the younger ones and an adventure playground aimed at 5 – 16 year olds, a cafe and of course Battersea Park Zoo – look out for LittleBird savings at the Zoo; don't forget to sign up if you're not already!