What's On This Bank Holiday Weekend? – Saturday 23rd & Sunday 24th May
FUN AND FANTASTIC THINGS TO DO WITH THE KIDS IN LONDON THIS WEEKEND
SATURDAY 23RD & SUNDAY 24TH MAY
AGAINST CAPTAIN'S ORDERS AT THE NATIONAL MARITIME MUSEUM, GREENWICH
*Runs throughout May Half Term*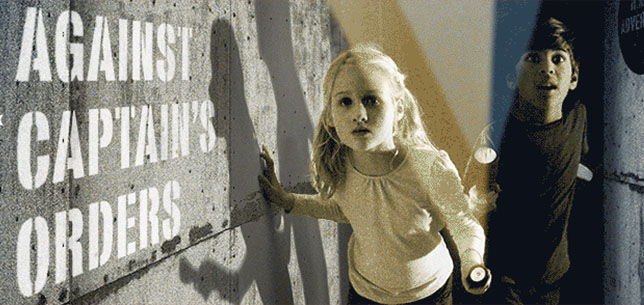 Get ready to experience history like never before as you and your family join the crew of HMS Adventure in this ground-breaking new show. Prepare for the adventure of a lifetime through the museum's incredible wealth of maritime history and artefacts.
Meet fearless curators, don a life jacket and step into the heart of the action. Anyone brave enough to get on board will scarcely believe what will happen next.
With so much history secured in one museum, so many doorways to other times and other worlds, Against Captain's Orders: a Journey into the Unchartered promises to be exciting, enlightening, and perhaps a tiny bit dangerous…
When: Until 31st August
Where: National Maritime Museum, SE10 9NF
Age: 6 – 12
Cost: £19.75
LittleBird's Top Tip: Greenwich Market is a perfect place to grab a bite to eat  and have a wander around the markets and if it's a nice day, take your market morsels and find a seat by the Cutty Sark – maybe even fit in a walk under the Thames.  If you have any energy left – enjoy Greenwich Park and visit the Astronomy Centre – it's free.
ANIMAL ENCOUNTERS AT THE LONDON WETLAND CENTRE, BARNES
*Runs throughout May Half Term*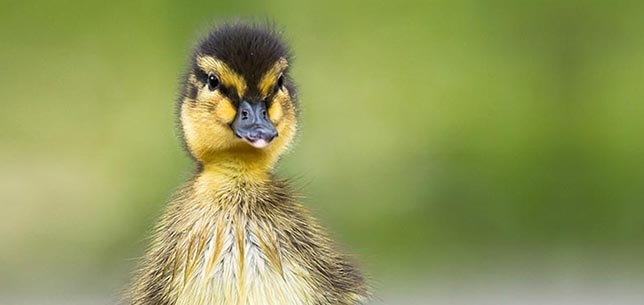 Encounter animals aplenty this weekend and throughout the May Half Term at London Wetland Centre. Get up close and personal to a different 'star' animal every day, discover and enjoy 'safari' sessions where the kids will go on bug hunts, reptile rambles or duckling walks and get creative at the nature craft sessions. There are lots going on and every day is different – enjoy the full programme here.
London Wetland Centre is a great family day out; there's the outdoor adventure playground with zip wires, climbing walls, giant water vole tunnels and water games! Plus there are the Pond Zone and the Discovery Centre – great environments for the kids to explore, discover and experience and, of course, don't miss the Otters: feeding times are 11am & 2pm daily.
When: Saturday 23rd – Sunday 31st May, 10am – 4pm
Where: London Wetland Centre, SW13 9WT
Age: Families
Cost: Half term activities are free – normal admission (adults £12.75, children £7) applies.
LittleBird Top Tip: Aspiring Doctor Dolittle's amongst you? Then Paradise Wildlife Park is a must this half term and you can save 22% with us. Book your tickets here and enjoy over 400 animals, Tiger Treetops, tropical rainforest, farmyard encounter, Tumble Jungle soft play plus rides and slides, woodland railway, Paradise Lagoon, On Safari Adventure Golf and more!
SENSATIONAL BUTTERFLIES & CORAL REEFS AT THE NATURAL HISTORY MUSEUM, SOUTH KENSINGTON
•Runs throughout the May Half Term •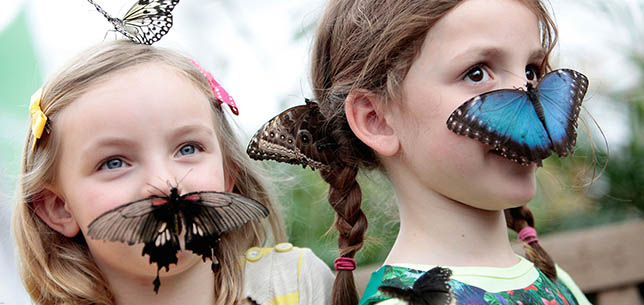 Discover the magic of coming face to face with 100s of free-flying moths and butterflies as you wander through a tropical butterfly house with the Sensational Butterflies exhibition. Learn about life cycles, discover species from all over the world, and enjoy the fun interactive displays for children. While you're here, encounter 200 strange and beautiful specimens collected by Charles Darwin in Coral Reefs: Secret Cities of the Sea. Take a virtual reef dive, see live sea coral and fish in the aquarium and enjoy spectacular underwater photography.
Planning a trip this Saturday, then head to Darwin Centre Courtyard for Big Nature Day; there's pond dipping, ladybird hunts and the opportunity to meet 40 visiting UK natural history and conservation groups and it's free!
When: Until 13th September
Where: Natural History Museum, SW7 5BD
Age: Families
Cost: Adults £10, Children £4.50, families (2 adults & up to 3 children) £24.50 – Coral Reef
Adults & Children £5.90, families (2 adults & up to 3 children) £19.80 – Sensational Butterflies
LittleBird's Top Tip: Check out May half term activities at the nearby V&A and get creative with Digital Kids (free) and the Science Museum's array of fun activities here (free and ticketed).   
HENRY THE FIFTH AT THE UNICORN THEATRE, LONDON BRIDGE
•Runs throughout the May Half Term •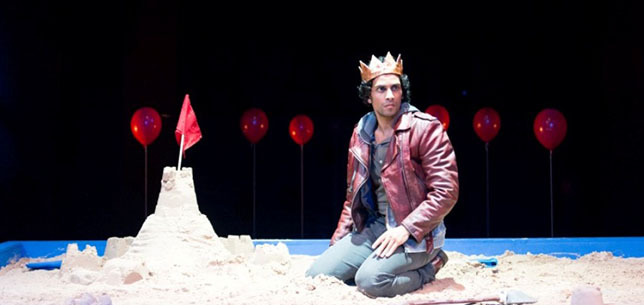 Introduce the kids to Shakespeare this half term at the Unicorn Theatre. Henry the Fifth is a modern, fun and inventive take on Shakespeare's play.  Kings need crowns and castles to prove themselves, and so does Henry. Running out of cash and all Henry can think about is that his neighbour's castle is bigger than his…The poignant question is asked; What's the difference between a King and any other man?
If you've bought tickets for Henry the Fifth for the Saturday matinee then arrive early and the kids can join the Unicorn's Up Club from 1.30pm – 2.30pm for a Shakespearean, physical workshop (for ages 8+).To see what fun has been had before, check out the Up Club blog here.
When: Runs until 31st May
Where: Unicorn Theatre, SE1 2HZ
Age: 8+
Cost: Adults £16 and Child £10 – enjoy a 50% saving with LittleBird on certain shows, click here to buy your tickets.
LittleBird's Top Tip: Young minds interested to find out what really goes into making a play? Then the Unicorn's Backstage Tours this Saturday is for them. Tickets are £3 and the tour starts at 12pm.
THE POWER OF POISON AT THE OLD TRUMAN BREWERY, BRICK LANE
•Runs throughout the May Half Term •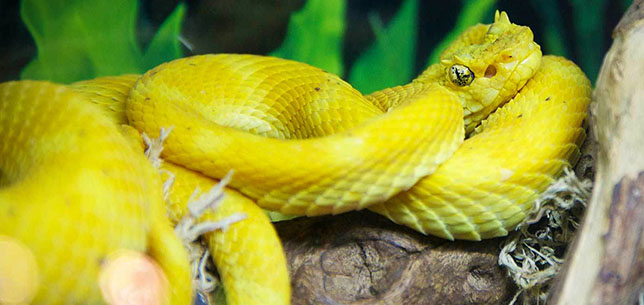 Discover the alluring, seductive and terrifying role of poison at the Old Truman Brewery and how it affects everyday life through nature, myth, medicine and healing. The Power of Poison creates an engaging and immersive exhibition through the use of interactive components, models, multimedia and live animals.
Poison, whether as a defence against predators, a source of magical strength or a lifesaving medical treatment,  is filled with mystery, intrigue, fascinating tales and surprising benefits. Investigate the reality behind renown tales such as Snow White, Mad Hatters and Greek Legends and solve case studies using iPads studying evidence and comparing clues to figure out what poisoned a dog, an owl and Captain Cook.
When: Until 6th September
Where: Old Truman Brewery, E1 6QR
Age: Families
Cost: Adult:  Weekday £13 / Weekend £15 / Child: Weekday £8 / Weekend £9
LittleBird's Top Tip: The Old Truman Brewery is just off Brick Lane, so why not enjoy a Nutella bagel from Beigel Bake or treat to the kids to a cereal cocktail at the Cereal Killer Cafe – mine's a Shooty Shooty Bang Bang!
WHERE'S WALLY? AT THE ARCELORMITTAL ORBIT, STRATFORD
•Runs throughout the May Half Term •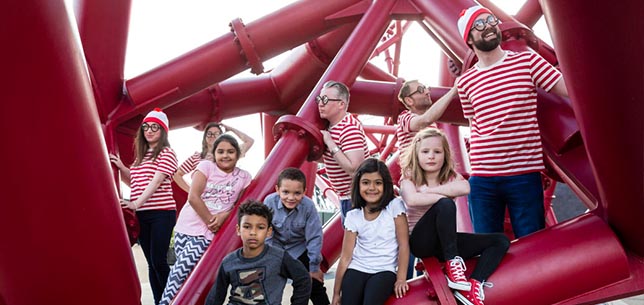 Everyone's favourite red and white jumper wearing explorer is visiting the ArcelorMittal Orbit this weekend and throughout half term. Join Wally and his friends, Woof the dog, Wenda, Wizard Whitebeard and the Wally-watchers, for a story trail adventure at the top of the UK's tallest sculpture while you take in views of up to 20 miles across the London skyline! Ascend the 80m sculpture via a lift and descend using 455 steps.
Enjoy the Where's Wally? imaginative and interactive daily workshops, running from 12pm – 4pm,  everyday and get the whole family involved in a Where's Wally? story trail around the lower viewing platform. Dress up in costumes and take part in other Where's Wally? inspired games and activities.
When: Until 31st May
Where: Arcelormittal Orbit, E20 2AD
Age: Families
Cost: Adults £15, Children £7 – go dressed as Wally (you must be wearing a minimum of Where's Wally glasses, stripey red t-shirt, blue trousers and a Where's Wally hat) and entry is £1
LittleBird Top Tip: Save up to 37% on tickets with Littlebird – plus your voucher will be valid until 18th July if you can't make it this weekend and half term. Book your tickets here
THE LINE – SCULPTURE WALK, EAST LONDON
•Runs throughout the May Half Term •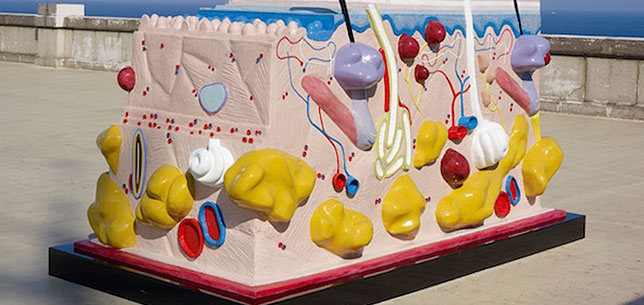 This world-class sculpture walk for London, based on New York's High Line,  opens this weekend. This new outdoor art walk – called The Line – follows the Lee Navigation and the Meridian line from the Queen Elizabeth Olympic Park to the Royal Docks and the 02 Arena. The selected sculptures are by major contemporary artists including Abigail Fallis; Martin Creed; Eduardo Paolozzi; Damien Hirst, Piotr Uklanski and Gary Hume.
Covering three miles of canal ways, The Line brings modern art to forgotten patches of the city and by inviting visitors to rediscover these areas, breathes life back into the landscape.
When: opens Saturday 23rd May
Where: Depends where you start
Age: Families
Cost: Free
LittleBird Top Tip: If you like outdoor cultural  trails – enjoy Talking Statues, Museum Mile and of course Shaun in the City – in London until 31st May.
FULL OF SPICE AT KEW GARDENS
•Runs throughout half term•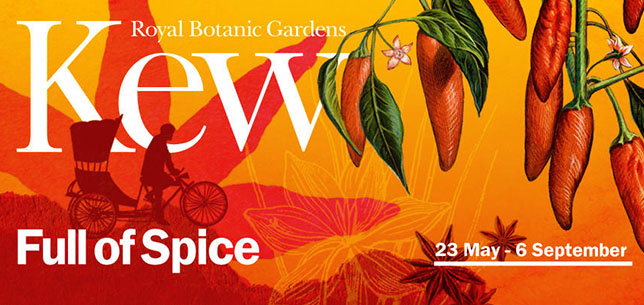 Spice up your life this half term and visit Kew Garden's summer festival Full of Spice that opens this weekend. You can make your own blend of spice, visit hands-on sessions and discover what parts of plants are used as spices around the world. There are Rangoli Workshops that offer a chance for the whole family to get involved helping to create beautiful large-scale folk art, spice tours and even a rickshaw ride (max 2 people, £8.50).
Plus, there's plenty of family friendly areas to discover and explore at Kew including badger setts, the Climbers and Creepers interactive botanical play zone, a natural play area and log area, the Temple of Imagination and Treehouse Towers – a tree-themed outdoor play area.
When: Saturday 23rd May until 6th September
Where: Kew Garden, TW9 3AB
Age: Families
Cost: Adults £15,  children 16 and under £3.50
LittleBird's Top Tip: Save £1 by pre-booking online and take a picnic and dine al fresco.
THE FANTASTICAL STORY FACTORY AT UDDERBELLY, SOUTHBANK – SAVE 36% WITH LITTLEBIRD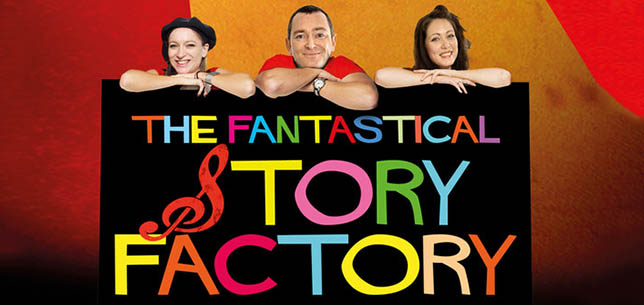 We love the big purple cow! Situated on the Southbank, just by the London Eye, Udderbelly makes for a great family day out with plenty to do before and after you take in a show. This Sunday, enjoy this improvised musical family adventure and explore magical kingdoms and meet wonderful characters! The Fantastical Story Factory draws on stories solely from kids ideas  – let the kids decide where the story is set, what happens next and who the characters are. They can even join in if they want!
The Fantastical Story Factory is brought to you by Showstoppers; Veterans of the Edinburgh Fringe and loved by Mr Gum creator and author Andy Stanton.
When: Sunday 24th May, 2.30pm
Where: Udderbelly, SE1 8XX
Age: 6+
Cost: £7 per ticket or book a family ticket for £24 – only with LittleBird, book your tickets here
LittleBird Top Tip: Arrive early and go to London Bridge. Walk along the Southbank passing  Shakespeare's Globe (with live demos daily throughout half term of either a sword fighting, printing press or Elizabethan dressing demonstration), Tate Modern and the Southbank Centre – all have family friendly half term activities on offer.  
TOGETHER WE CREATE SPACE AT THE PARASOL UNIT, ISLINGTON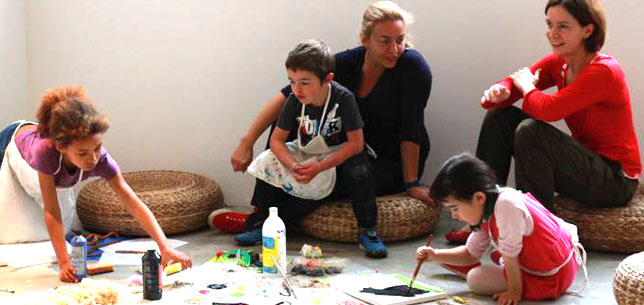 The Parasol Unit offers two galleries plus a garden terrace overlooking the Regent's Canal and is renowned for its forward-thinking and challenging exhibition programme. This Sunday's Family Workshop invites you and your family to work as a collective, using an array of materials, objects, images and ideas to develop exciting, humorous and odd installations – it's a chance to let your imaginations run wild! Together We Create Space  takes inspiration from Los Carpinteros' approach to architecture and sculpture, encouraging playful investigation into how buildings are conceived, used and abandoned.
When: Sunday 24th May, 2.30pm – 4pm
Where: Parasol Unit, N1 7RW
Age: 5 – 15 year olds
Cost: £5 per family
LittleBird's Top Tip: You're virtually next door to the Victoria Miro Gallery and not far from City Road Basin.  Built in 1819 to serve the City of London, less than a mile away the City Road Basin was originally surrounded by wharves for off-loading coal, timber and building materials. It's now the perfect place to wander along the Regent's Canal and spot a narrow boat or two and there is a landscaped park nearby too.