What's On This Weekend? 25th & 26th April
FUN & FANTASTIC THINGS TO DO WITH THE KIDS IN LONDON THIS WEEKEND
SATURDAY 25TH & SUNDAY 26TH APRIL
TRANSPORT UNCOVERED AT THE MUSEUM DEPOT IN ACTON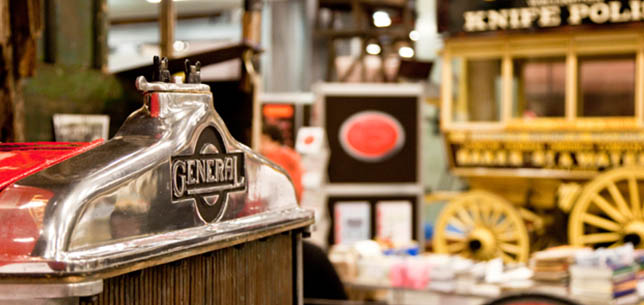 This weekend the Museum Depot in Acton throws opens its doors so get ready for two days of jam-packed activities to celebrate the hidden stories of London's transport system. Offering the chance to peek inside and marvel at treasures from London's transport past and present.
Get ready to take a trip on a moving miniature railway, build spaghetti bridges and sand tunnels, take part in the Hidden Heroes Scavenger Hunt and find the objects that have kept London moving,  explore the Museum's own collection of miniature models  and have a go on the Braking Eggsperiment activity. Discover engineering secrets that slow Tube trains down with as little braking power as possible – I wonder if there is a clue in name of the experiment?
 When: Saturday 25th & Sunday 26th April, 11am – 5pm
Where: Museum Depot, W3 9BQ
Age: Families
Cost: Adults £10, Children free
 LittleBird Top Tip: The Museum Depot is a working museum and only opens for special events so this really is a great opportunity. The Depot houses over 320,000 items including many original works of art used for the Museum's celebrated poster collection, vehicles, signs, models, photographs, engineering drawings and uniforms forming the most important records of urban transport anywhere in the world.
FEAST OF ST GEORGE IN TRAFALGAR SQUARE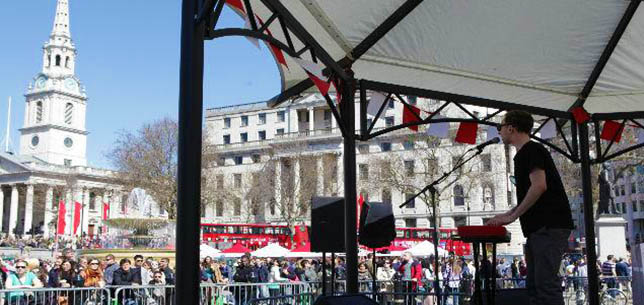 London celebrates St George's Day with a day of free activities, food stalls, children's games and more at the Mayor of London's annual Feast of St George in Trafalgar Square. St George's Day is officially Thursday 23rd April but when everyone's at school and work, Saturday's celebration – are inspired by St George's Day's 13th-century origins as a national day of feasting – are a much better idea.
There's lots promised including live demonstrations from leading London chefs, performances from musicians and entertainers plus the chance to get creative in arts and crafts stalls and food workshops. Explore market stalls and indulge in some mouth-watering treats and then dine in a banqueting area surrounded by Trafalgar Square's iconic fountains.
When: Saturday 25th April, 12pm – 6pm
Where: Trafalgar Square
Age: Families
Cost: Free
LittleBird Top Tip: If the crowds get too much, pop into the National Gallery or find some green space in St James Park – a five minute walk away.
SPRING PLANTS & GARDEN FAIR AT THE GARDEN MUSEUM IN LAMBETH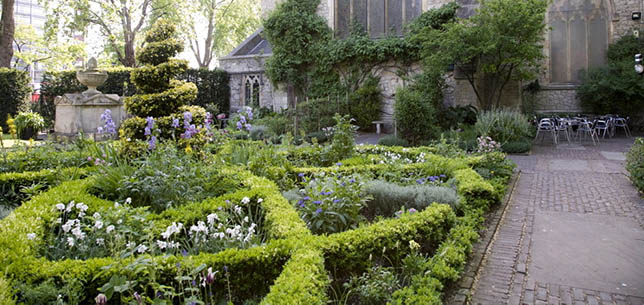 Garden in need of some attention to get it ready for the summer? Combine some plant shopping with family fun this Saturday at the Garden Museum's annual Spring Plant and Garden Fair. There will be a wide selection of stalls from specialist nurseries and horticulturists and family-friendly activities are promised too. Entry to the fair includes access to the current exhibitions including 'A Space for Flowers: The New Covent Garden Flower Market' .
While you're here enjoy the Garden Museum's beautifully illustrated Family Trail – print it out before you go; click here to download.
 When: Saturday 25th April
Where: Garden Museum, SE1 7LB
Age: Families
Cost: Adults £5 (includes access to exhibitions as well as), Children are free
LittleBird Top Tip: There is always the Garden Museum's Art Cart available plus a table for families to sit at with books, toys and colouring sheets. The Garden Cafe is a treat so don't miss it – snack, nibble and sup al fresco in the 17th Century knot garden!
MANGA WORKSHOP WITH SONIA LEONG AT OTTIE & THE BEA, BLACKHEATH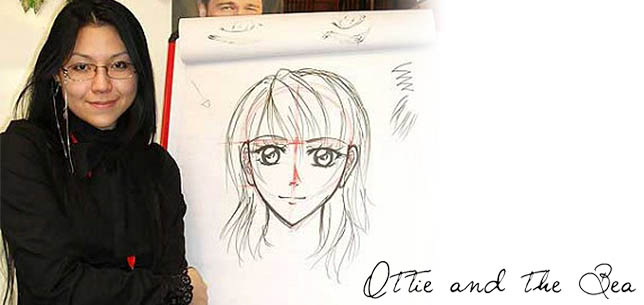 Kids love Manga? Then this workshop opportunity is a must. Ottie & the Bea are welcoming back Sonia Leong; comic artist and illustrator specialising in Manga, who will be hosting this two hour workshop.
Sonia's artwork features prominently in the British movie, Popcorn (2007) and also on the set of Channel 4's popular sitcom The IT Crowd. She has been teaching Manga workshops since 2004, her UK appearances include the Guardian Hay Festival, Victoria & Albert Museum and London County Hall.
Ottie & The Bea is a wonderful children's shop, a treasure trove of wonderment where they believe playing and having fun is a very serious matter… no matter what age you are!
When: Saturday 25th April, 2pm – 4pm
Where: Ottie & The Bea
Age: 8+
Cost: £18
LittleBird Top Tip: You're not far from Blackheath so take the kite if you have one – on a windy day there is no better place. From Blackheath, you can wander into Greenwich Park; deer, squirrels, Royal Observatory and Peter Harrison Planetarium
BAND DAY AT THE FOUNDLING MUSEUM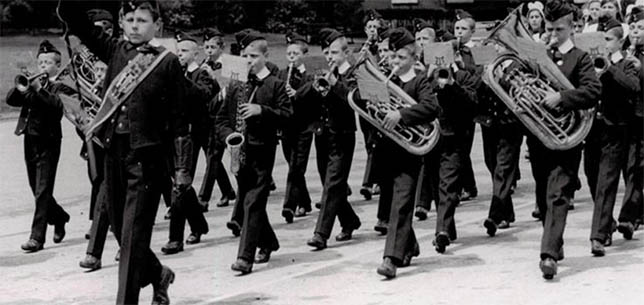 Celebrate the history of the Foundling Hospital Boys' Band this Saturday in Band Day! The Camden Concert Band will be performing at 2.30pm and 3.30pm and there are family workshops running throughout the day; Instrument Parade. Instrument maker and artist Giles Leaman will be leading the drop in workshop inspiring kids to make their own Band Day instruments. Band Day brings to life the  Foundlings at War: Military Bands exhitibion, on display until 10 May.
When: Saturday 25th April, 11am – 6pm
Where: Foundling Museum, WC1N 1AZ
Age: Families
Cost: Adults £8.25, Children free
LittleBird Top Tip: Coram Fields (named after the founder of the Foundling Museum, Thomas Coram) is not far and a great place for family fun; playgrounds, a city farm and a cafe plus lots of space for ensuring that all important wild time.
LONDON'S MIGHTY RIVER AT THE WILLIAM MORRIS GALLERY, WALTHAMSTOW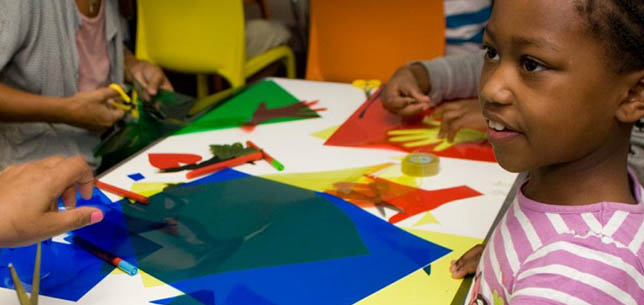 The River Thames is the longest river in England, stretching for 215 miles. It has shaped London's history as an important trade route and is a worthy subject for this free drop in family workshop at the William Morris Gallery this Saturday.  Let the kids experiment with new and unusual ways to represent the Thames in art in London's Mighty River workshop.
William Morris was a textile designer and craftsman, writer, poet and political activist. The gallery celebrates William Morris's life and work and supports artists with the Gallery's first major commission in 2015. Yinka Shonibare MBE, Turner Prize nominee, recreates photographs from the Morris family album – runs until 7th June.
When: Saturday 25th April, 1pm – 4pm
Where: William Morris Gallery, E17 4PP
Age: Families
Cost: Free
LittleBird Top Tip: The William Morris Gallery is set within Lloyd Park so spend the morning outside and let the kids enjoy the nature play area, outdoor gym, outdoor table tennis (bring your own bats and balls) and if there are any skaters amongst you; bring your boards along as there's a skate park too.
PLANTASTIC AT THE HORNIMAN MUSEUM, FOREST HILL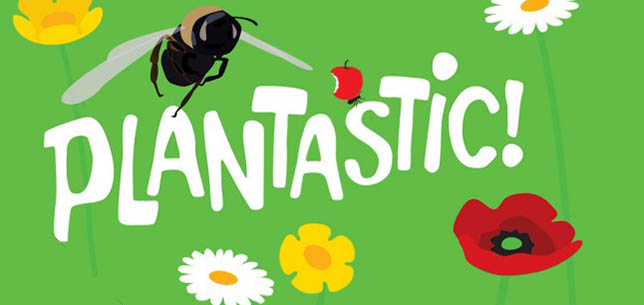 Ever wondered how a bee sees the world? How can a plant move when it's rooted in the ground? And why is dung so important? Plantastic brings the miniature world of plants to life on a massive scale. From super seed pods and exploding cucumbers to sun-seeking flowers and a huge crawl-through root system, interactive exhibits and games will bring visitors up close to all kinds of fantastic plant life, to reveal how plants feed, move, reproduce and survive.
With the farmers market and free hands on family workshops plus their art makers sessions making Paper Bag Bird Puppets (£3 per ticket) taking place this Saturday 25th April – not to mention the cafe and gardens; you could quite easily spend the whole day here and why not?
When: runs until 1st November
Where: Horniman Museum, SE23 3PQ
Age: Families
Cost: Although entry to the museum is free, the Plantastic exhibition is ticketed – a family ticket costs £16.50
LittleBird Top Tip: The Horniman has an aquarium, a family ticket costs £7.50 or you can get a combined ticket to both Plantastic and the Aquarium for £22.
THE LONDON MARATHON, BLACKHEATH & GREENWICH START LINES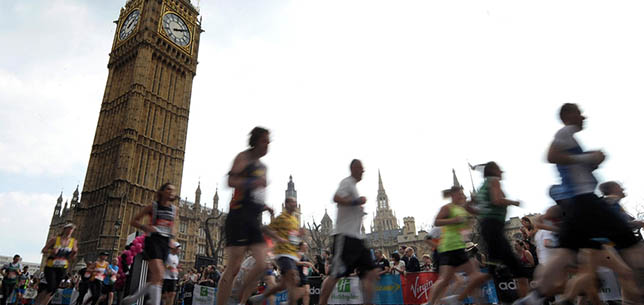 Whether you know someone taking part, are happy to cheer everyone on and soak up the atmosphere or simply love watching at all the runners in fancy dress and marvel at their stamina to run 26 miles in a batman or Elsa costume – the London Marathon is a great event! There are downloadable PDFs featuring maps of the entire route – click here – or you can watch the start on Blackheath and jump on the train in Blackheath Village and travel into central London to watch the finish at The Mall.
The start times are staggered with the elite wheelchair race at 9am, the IPC Athletics Marathon World Championships (ambulatory) at 9.05am, the elite women at 9.20am. The elite men start at 10.10am, then the masses.
When: Sunday 26th April, from 9am onwards
Where: Blackheath, SE3 0TY & Greenwich Park, SE10 9NF
Age: Families
Cost: Free to watch
LittleBird Top Tip: Take warm and waterproof clothes, a blanket and some snacks – it can take a long time for all the runners to actually run through the start line on Blackheath.
BEC & TOM'S AWESOME LAUNDRY AT UDDERBELLY FESTIVAL, SOUTHBANK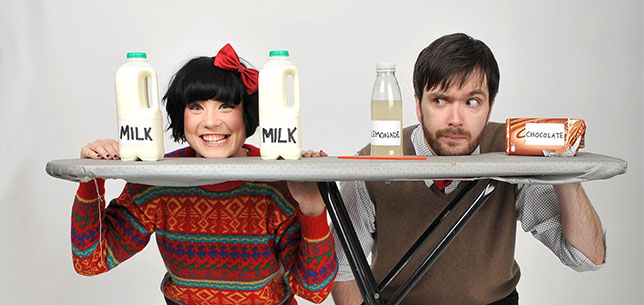 If you didn't know already, the big purple cow has taken up residence again on the Southbank – yes indeed,  hurrah –  The Udderbelly is back! This Sunday it's laundry day for Bec and Tom! But Bec has other ideas. Tom literally has to drag her to the laundrette, but she'll do anything to avoid her chores: storytelling, games, paper puppetry – you name it! Even Tom can't help but be swept up by her infectious enthusiasm, when he's not trying to show off how clever he is. But beneath the mischief, Bec hides a secret..to find out, you'll have to  book some tickets….
When: Saturday 25th & Sunday 26th April, 4.15pm
Where: Udderbelly, Southbank
Age: 5+
Cost: £11 per ticket or book a family ticket of 4 at £9 per ticket
LittleBird's Top Tip:  Arrive early and hang out on the Southbank – there's the Jubilee Gardens Playground and gardens directly in front of the London Eye, street theatre or simply head for the Udderbelly's pastures and soak up the atmosphere with a drink or an ice cream.  
DOGS DON'T DO BALLET AT THE BARBICAN
Dogs don't do ballet. Or do they? Presented by the Barbican's award-winning animateur and children's composer Rachel Leach this concert, featuring the full London Symphony Orchestra, is based on Anna Kemp's hit 2010 book Dogs Don't Do Ballet.  The family concert offers the chance for your kiddies to get involved by bringing along their instrument or singing along with the audience participation piece. To download the music for the participation piece, please visit the LSO website here.
 Arrive early and join in with fun warm-up activities including meeting LSO musicians and practising the participation piece – taking place in the main foyer between 1.10–2.10pm. Don't forget to bring your book as there's the chance to meet author Anna Kemp and get your books signed! Bringing along tinnies with your big kids? Then make use of the free crèche for under-7s during the hour-long concert. From 2pm in the Fountain Room.
Plus this Sunday the Barbican Conservatory is open – a hidden tropical oasis in the heart of the city and home to exotic fish and over 2,000 species of tropical plants and trees!
When: Sunday 26th April, 2.30pm
Where: Barbican, EC2Y 8DS
Age: 7 – 12
Cost: Adults £10, children £5
LittleBird's Top Tip: You're a five minute walk from the Museum of London (free entry) and every Sunday you can enjoy Museum Explored between 12pm – 2pm; a perfect pre-theatre activity letting the kids explore the galleries with plenty hands on fun.