What's On This Bank Holiday Weekend? 2nd – 4th May
FUN & FANTASTIC THINGS TO DO WITH THE KIDS IN LONDON THIS WEEKEND
SATURDAY 2ND & SUNDAY 3RD MAY PLUS BANK HOLIDAY FUN!
CANALWAY CAVALCADE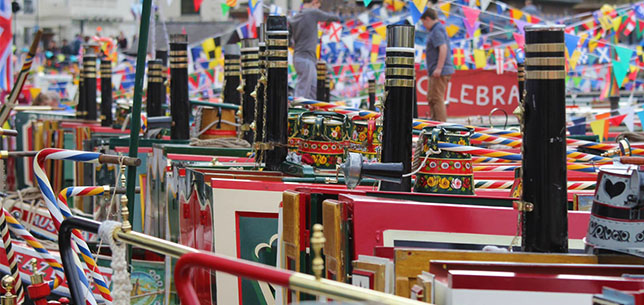 Fun and festivities await you this bank holiday weekend in Little Venice. With its picturesque and unique waterways, the  Canalway Cavalcade is organised by the Inland Waterways Association and has been running for over 30 years.
Children's activities are in abundance and include Paddington trails, Punch and Judy shows, 'Bubbles of Fun' (walking on water on the boating pool!), brass rubbings, making duck headdresses, bunting and badges, brass rubbings, colouring and jewellery making, Teddy Bears Picnic, Morris dancing and Brer Rabbit and the Tar Baby from the wonderful Puppet Barge (booking required) and there is an illuminated procession of barges on Sunday at 9pm – sounds magical! To plan your day / weekend, click here for the full programme.
When: until Monday 4th May
Where:  Browning's Pool, Little venice, W2
Age: Families
Cost: Free with some activities an extra charge
LittleBird Top Tip: If the crowds get too much and you need to break free, enjoy a walk along the winding waterways – you could even walk to Regents Park and London Zoo.
COMIC DRAWING WORKSHOPS AT THE SOUTHBANK CENTRE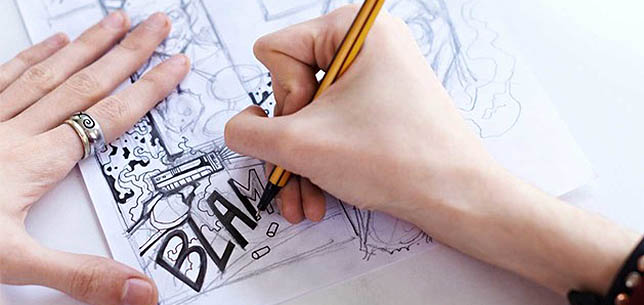 The Southbank is a great family hang out as there is always so much going on and this weekend  is no exception! This Saturday the kids can learn how to draw their favourite Beano and Dandy characters. Dennis, Gnasher, Desperate Dan and Minnie the Minx… sketch them all with an expert comic artist from The Beano in these workshop for all ages.Part of the Southbank Centre's Changing Britain Festival, these workshops celebrate the characters who have been entertaining us for the past 70 years.
Plus pull up a chair and get ready to sculpt, build and create with Crafty Makes a free activity between 12pm and 4pm, Level 2 foyer space.
When: Saturday 2nd May, 11am – 1pm & 2pm – 4pm
Where: Royal Festival Hall, Southbank Centre (Level 2 Foyers)
Age: Families
Cost: Free
LittleBird's Top Tip: There are some great shows for the family on this bank holiday weekend at the Udderbelly including Comedy for Kids and A Simple Space (both Saturday 2nd May) and Sholmos Beatbox Adventure for Kids this Monday 4th May – save 32% on tickets with LittleBird!
BREAKIN' CONVENTION '15 AT SADLER'S WELLS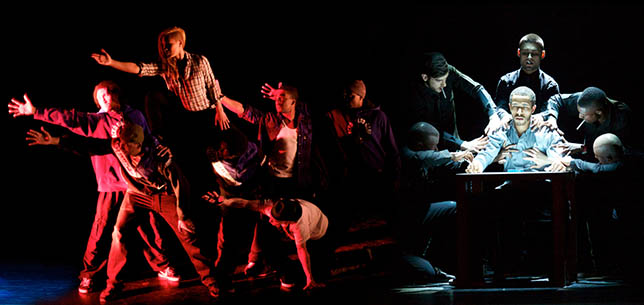 This International Festival of Hip Hop Dance Theatre backflips it's way to Sadler's Wells this weekend, returning for its 12th year. Breakin' Convention '15 offers a jam packed programme of participatory activities pre-show and during the intervals, offering something for everyone, with graffiti and dance workshops, freestyling sessions and live aerosol art.
The show promises performances from the very best international and UK poppers, lockers, house dancers, b-boy and b-girls. Get involved yourselves and enjoy Freestyle Funk Forum's and workshops that challenge you to hone your technique or try dance for the first time, learning from some of the best hip hop and funk style dancers from across the globe
When: Saturday 2nd & Sunday 3rd May, 6pm (doors open 4pm)
Where: Sadler's Wells, EC1R 4TN
Age: Families
Cost: Prices vary with tickets to shows £20, but workshop and forum ticket prices starting at £5
LittleBird Top Tip: The doors open at 4pm so it's a good idea to get there early as lots of the workshops and forums take place before the main show.
PENGUIN PARADE AT DISCOVER, STRATFORD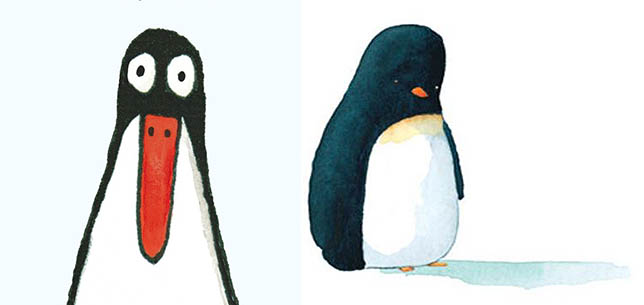 Per..ppppppick up a penguin at Discover this weekend and get your waddle on. Listen to a penguin story, make a mini penguin and learn about penguins in space.  Dress up as a penguin and join the penguin parade with Discover's story builder; let the kids strut their stuff and maybe they'll win the penguin parade prize!
If you're venturing to Discover on Saturday, join William Grill,  the author of Shackleton's Journey,  in an illustration workshop that will take the kids into the depths of Antarctica.
When: Saturday 2nd May – Monday 4th May
Where: Discover Children's Story Centre, E15 4QZ
Age: 0 -11
Cost: £5 adult / child, £18 for a family of 4
LittleBird's Top Tip: If you've got kiddies 6 and under, don't miss the Oliver Jeffers exhibition. Celebrating the 10th birthday of the classic How to Catch a Star,  Discover explores Oliver Jeffers' magical worlds bringing his fabulous picture books to life. Let the kids play in their favourite scenes from How to Catch a Star, Up and Down, Lost and Found and The Way Back Home.
FINA / NVC DIVING WORLD SERIES 2015 AT THE AQUATICS CENTRE, STRATFORD – SAVE 37% WITH LITTLEBIRD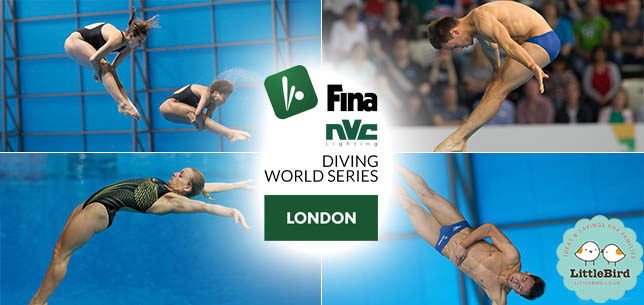 Watch flips, twists, somersaults and more at the FINA/NVC Diving World Series 2015. This competition invites internationally-recognised divers, mostly medallists from previous Olympics, World Championships and World Cups – with Tom Daley arriving on Sunday!  
The event offers an annual meeting opportunity for the world's brightest diving stars and sees both men and women compete, with mixed events being a new feature for 2015. We have been promised some awe-inspiring and spectacular routines!
Situated in the Queen Elizabeth Olympic Park you can easily spend a day here. With the ArcelorMittal Orbit, canal tours and the Copper Box Arena all a few minutes walk away. .
When: Saturday 2nd May at 10am & 6pm and Sunday 3rd May 10am & 7pm
Where: London Aquatics Centre, E20 2ZQ
Age: Families
Cost: Adults from £15, children from £5 with LittleBird – click here for saving
LittleBird's Top Tip: Let the kids enjoy the Tumbling Bay Playground featuring rock pools, sand pits, tall treehouses, and wobbly bridges, as well as slides, swings and plenty of space to run about before you venture into the park using one of the many trails.
DEPTFORD HERITAGE FESTIVAL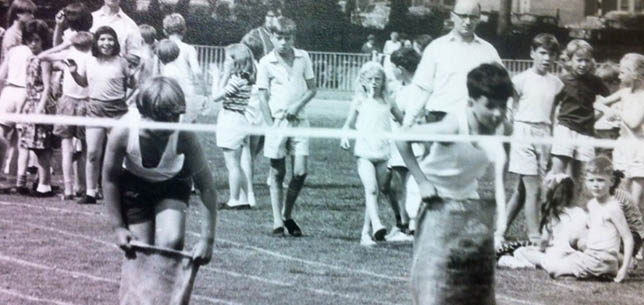 Deptford Heritage Festival promises over 100 events throughout this four day festival that starts on Friday 1st May. Celebrating Deptford's role in global history, the festival will offer an array of  zones including Performance, World Music and Blues and Jazz  and Chill Out. There's Opera, a Film Festival plus a food festival reflecting the 127 cultural groups that call Deptford home, click here for the programme of events.
On Monday 4th May a giant Street Party is planned on the foreshore, where the kids will have the opportunity to dress as pirates, whilst building miniature Ships to reflect the Royal Dockyard's 500 years of Global shipbuilding history. And don't miss the Battle of Deptford Bridge and Deptford Broadway with 2000 performers including 12 choirs.
When: Until Monday 4th May
Where: Deptford, SE8 3NT
Age: Families
Cost: £25 per ticket valid for the whole festival
LittleBird Top Tip: Creekside isn't far and although the next low tide river walk isn't until  24th May (beginning of half term) you can take yourself and the kids on these excellent self guided tours – with 'Peeps at the Creek' focused on Deptford, click here to download.
POP-UP CAFE, KINGS CROSS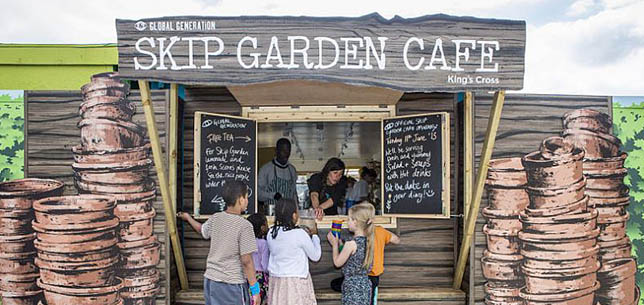 One Granary Square is a great place to spend the day hanging out with the kids and on the Saturday of every month the Pop-up Café appears, 10am – 4pm. You can take  a tour of the skip garden and enjoy some tasty food. There's plenty of space for kids to explore – they can learn how things grow and see what the worms in the wormery are up to. If it's cold – and who knows what weather a bank holiday weekend might bring – – you can take shelter in the cosy yurt with a wood-burning stove.
Discover Kings Cross with trails and tours galore – there are maps and apps to interact with and you must download Granary Squirt.  The app turns your smartphone into your very own fountain remote control between 5pm and 8pm everyday – excellent fun!
When: Saturday 2nd May, 10am – 4pm
Where: Skip Garden Cafe, N1C 4UZ
Age: Families
Cost: Roaming around the garden will cost you nothing, but your food expenditure will depend on what you eat!
LittleBird's Top Tip: The House of Illustration is close by as well as the British Library with their current Magna Carta exhibition – watch this video narrated by Monty Python's Terry Jones with the kids before you go.  Kings Cross is also home to the theatre production of The Railway Children – a perfect treat.
THE ALICE LOOK AT THE V&A MUSEUM OF CHILDHOOD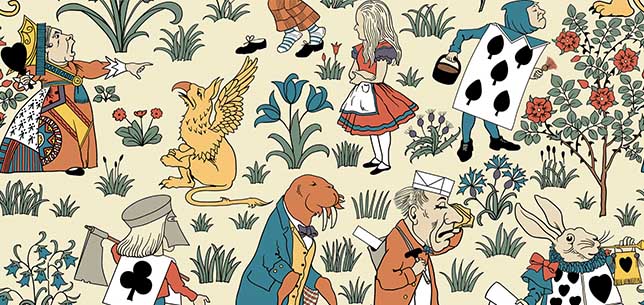 2015 is all about Alice. This year marks the 150th anniversary of Lewis Carroll's Alice's Adventures in Wonderland. The V&A Museum of Childhood takes you on a journey, not down the rabbit hole, but instead chartering Alice's worldwide evolution.  We see Alice as  follower-of-fashion to trend-setter through a selection of garments, photographs, rare editions and a brand new commission by Roksanda pattern-cutter Josie Smith. The display highlights how Alice has been adopted and adapted across the globe, and how she has inspired many of the most celebrated designers, stylists and photographers.
When: until the 1st November
Where: V&A Museum of Childhood, E2 9PA
Age: Families
Cost: Free
LittleBird's Top Tip: Don't miss the Small Stories: At Home In A Doll's House exhibition; 12 dolls' houses from the past 300 years have been brought to life by the characters that live or work there –  magical.
PICK ME UP FESTIVAL 2015 AT SOMERSET HOUSE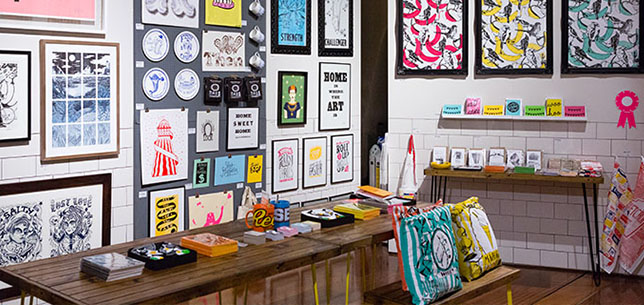 Returning for its 6th year this vibrant and engaging festival has gone from strength to strength. This bank holiday weekend sees the last few days of Pick Me Up 2015 – a festival that is packed full of exciting things to see, do and buy, featuring a whole host of different working processes and techniques that range from traditional screen-printing to animation, risograph printing to paper craft.
12 interactive workspaces have been set up throughout the Embankment Galleries for the 12 days of the festival. Each representing a different form of graphic art, the studios offer visitors plenty of opportunities to engage with the artists and designers directly, see work being made onsite, and even create your own work. There are original pieces produced throughout the festival available for purchase with prices ranging between £5 and £200.
Plus the 2015 Sony World Photography Awards Exhibition is on and runs until the 10th May – even more reason to visit Somerset House this weekend!
When: until 4th May
Where: Somerset House,WC2R 1LA (Embankment Galleries, South Wing)
Age: Families
Cost: Day tickets £10, concessions £8
LittleBird's Top Tip: Although the fountains in the Edmond J. Safra Fountain Court in the heart of Somerset House haven't been switched on yet this year, it's still a great space to let the kids run around while you grab a coffee and five minutes sat in the sunshine. Plus Covent Garden isn't far and always worth a visit – with plenty of street theatre and opera singers to enjoy.
SUNDAY OPEN HOUSE AT THE RAGGED SCHOOL MUSEUM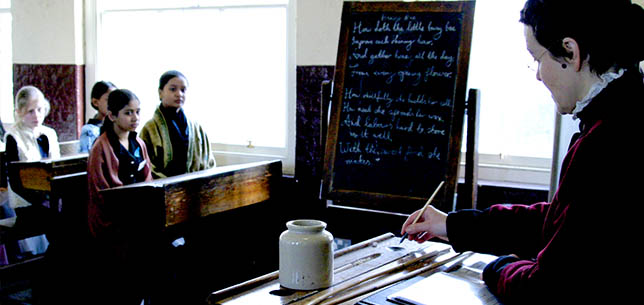 Are you brave enough to experience a lesson with the Ragged School's terrifying Victorian teacher as she puts you and the kids through your paces in our reconstructed Victorian Classroom? The Ragged School invite you, if you dare, to step through their doors and explore the history of the East End. The Victorian Classroom has been recreated in one of Dr Barnardo's original classrooms, restored as it was in the 1870s when he set up his free school for poor children in the East End of London.
The classroom is equipped with authentic and well-used school desks, slate writing boards and chalks, blackboards and easels and even dunce hats. So brush up on your tables and spellings and beware anyone whose left handed – this was not tolerated in 1870! You have been warned….
When: Sunday 2nd May, 2pm – 5pm
Where: Ragged School Museum, E3 4RR
Age: Families
Cost: Free
LittleBird Top Tip: The classroom capacity is limited to 34 people per session, so booking is advised: 020 8980 6405