What's On This Weekend? February 7th – 8th
FUN AND FANTASTIC THINGS TO DO WITH THE KIDS
SATURDAY 7TH  & SUNDAY 8TH  FEBRUARY  2015
MAPPING THROUGH MAKING WITH MAGGIE LI AT SOMERSET HOUSE (Free Family Workshop)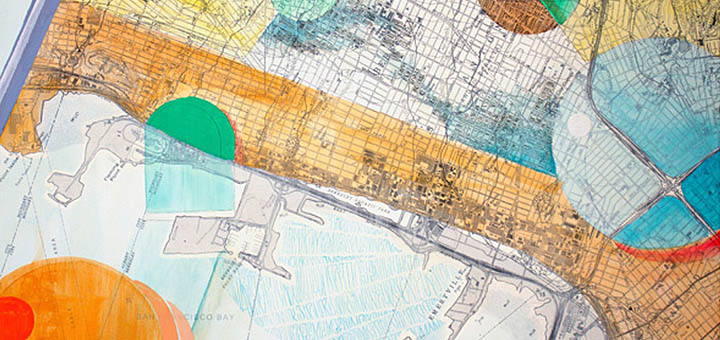 You can join  Maggie Li, illustrator and author of Big City Explorer, this Saturday at Somerset House and  fill the room with marvellous 3D map making in this free family event.  Let the kids explore some of the most vibrant cities in the world in this workshop, a response to Somerset House's exhibition Mapping The City (on until 15th February) and Maggie Li's most recent publication.
Mapping The City is an innovative exhibition of works by established and emerging artists from the street and graffiti art scenes. Graffiti and street artists have an intimate relationship with the cities that they use as a canvas –  understanding  and engaging with the urban landscape in unique ways. This free exhibition features works by over 50 internationally recognised artists.
When: Saturday 7th February, 12pm – 3pm
Where: South Wing, Somerset House, WC2R 1LA
Age: 6 – 12 years old
Cost: Free
LittleBird Top Tip: Enjoy a walk along the river or head to Covent Garden – shops, cafes, market stalls and of course the wonderful London Transport Museum – kids go free but adults are £16 although your ticket will be valid for a whole year!
FAMILY WEEKEND ACTIVITIES AT THE LONDON WETLAND CENTRE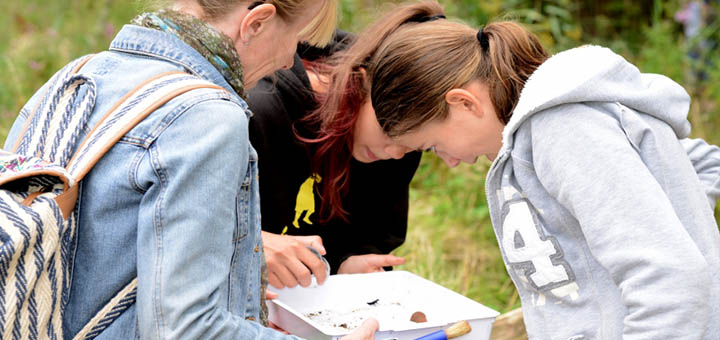 Been enjoying Winterwatch on BBC2 and feeling inspired by the wonderful wildlife? If you've not enjoyed a day at the London Wetland Centre this is a great reason to go and if you have, the family weekend activities are the perfect reason to plan a return visit. There's storytelling in the yurt throughout the day and  on cold days the wood burning stove is lit  to make it extra cosy.  Cuddle up and hear tales of wetland creatures and their amazing adventures.
Then go on a bird watching walk and you'll be shown the colourful ducks that live in the Wetland Centre in  the winter, from colourful shovelers with their spade-like bills to elegant teal with their green eye 'make-up'. And visit the Centre's guide in the hide in the Headley Discovery Hide who will give you bird watching tips and explain how to use the binoculars and telescopes to see birds up close.
There's so much else to do with the family including an adventure playground, the Discovery Centre, the virtual pond zone and the otter enclosure – family trails and of course World Wetlands.
When: Saturday & Sunday throughout the day
Where: London Wetland Centre, SW13 9WT
Age: Families
Cost: Entry to the Wetland Centre, for a family, is £32.32 (with gift aid), once in, the activities are free
LittleBird Top Tip: Book online and save 10%. If you do book online and then you can't go, your ticket is valid for six months from date of purchase – good to know with all the bugs and viruses around this winter.

BIG FISH LITTLE FISH FAMILY RAVE AT STRATFORD CIRCUS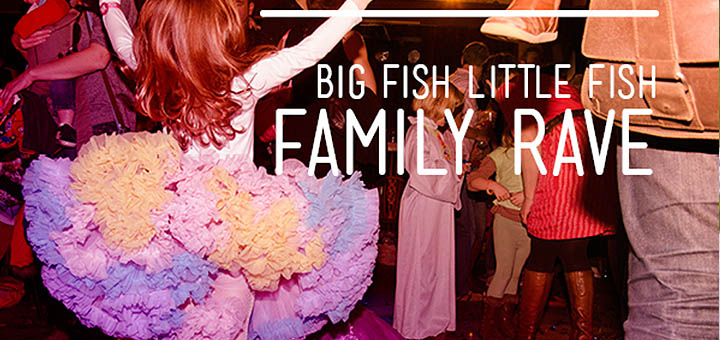 Join Big Fish Little Fish this Saturday for a family rave that has it all! Explore an enchanted forest themed party with top DJs playing proper club music and  so much more. You can enjoy a multisensory dance floor experience with coloured lights, bubble machines, glitter cannons, balloons and a fantastic giant parachute dance.
Play with Captain Cookie in the Happy Monkey craft area where the kids can make forest themed crafts. Or visit the baby chillout and playroom where you can sit and relax while the young ones explore the ball pool and older kids romp through tents and tunnels. Plus, there's free glowsticks and take-home goody bags too – come on, let's D.I.S.C.O.!
When: Saturday 7th February at 2pm
Where: Stratford Circus, E15 1BX
Age: 0 – 8
Cost: Pre-book and are adults £9, children £5
LittleBird's Top Tip: Haven't heard of Stratford Circus before, then check out the array of children's acrobatic and  acrobalance classes.
Make a day of it? Spend the morning in the Queen Elizabeth Olympic Park – the Tumbling Bay playground is a must!
ANIMATED ANIMALS AT THE MUSEUM OF LONDON (Free Family Workshop)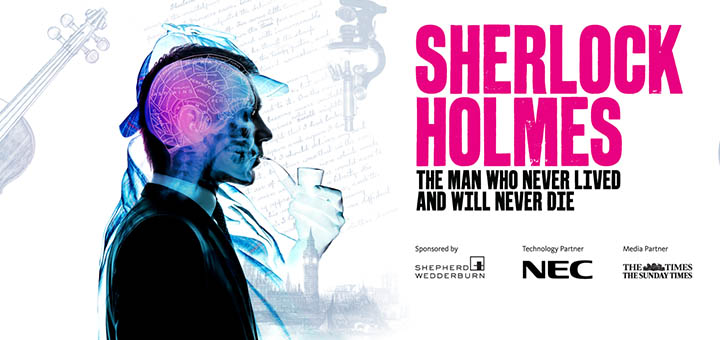 If you haven't visited the Museum of London for a while, make this free family workshop a reason to go. Join the Museum of London's digital learning team and let the kids bring some of the animals in the galleries to life. They'll be able to decide if they want to make the animals  move or make them talk!
You'll need to book the kids into the workshop and after that you can  roam around the capitals amazing past; go back in time to prehistoric London, or discover Roman and Saxon London, not to mention the Great Fire. If you haven't visit the Sherlock Holmes exhibition yet (on until 12th April) and there are detectives in your midst,  this is a must; family tickets start at £9.95 for children & £10.05 for adults.
When: Sunday 7th February, 12.30-1.30pm, 2-3pm & 3.30-4.30pm
Where: Museum of London, EC2Y 5HN
Age: 7+
Cost: Free – tickets allocation on arrival
LittleBird's Top Tip: You're incredibly near St Paul's Cathedral and although it's rather expensive to visit the Cathedral (a family ticket is £41.50 or £36. 50 online) you can enjoy this iconic part of London's skyline from outside and walk around the grounds and enjoy the architecture of this historic building – one of the largest churches in the world . There are  plenty of cafes and restaurants around including Beas of Bloomsbury.- indulge in fab teas and homemade cakes!
Make a day of it? Walk to St Paul's Cathedral from the Museum of London, take a stroll over the Millenium Bridge and pop into Tate Modern.
THE GREAT BRITISH POLAR PLUNGE AT THE QUEEN ELIZABETH OLYMPIC PARK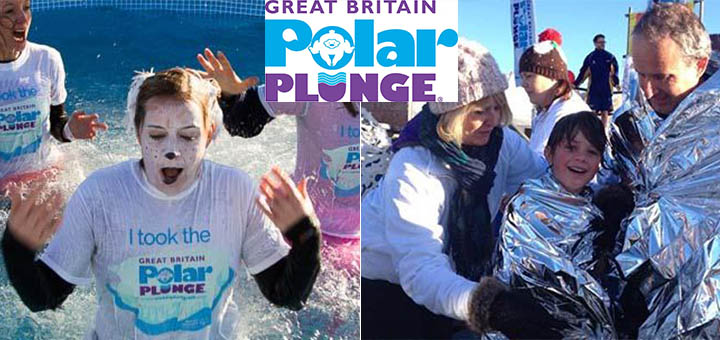 Are you are brave enough to leap into 20 tons of icy water to raise money for Special Olympics GB? Get the family together, invite your friends and take the Polar Plunge and help raise money for Special Olympics GB! There are cosy chaging tents for the plungers and if you do decide to take the plunge you'll get a souvenir t -shirt – surely worth jumping into 20 tons of icy water for…. and if you wear fancy dress, you could win a prize.
Whether you are up for the plunge or not, this looks like a great day out. There'll be live music, dance, and performances from the incredible Pandemonium Drummers. A Hot Spot, with heaters and food stalls offering warm drinks and tasty treats and have a Go Sports activities, accessible for people with disabilities, children and families.
When: Saturday 7th February
Where: Queen Elizabeth Olympic Park
Age: Families
Cost: Adults £20, 12 – 17 year olds £10, children under 12 £5
LittleBird's Top Tip: The Queen Elizabeth Olympic Park is a great family hang out with so much to do – free climbing walls, family art trails, the Copper Box Arena, the London Aquatics Centre plus boats trips and playgrounds.
THE DOODLE DANCE SHOW AT GREENWICH DANCE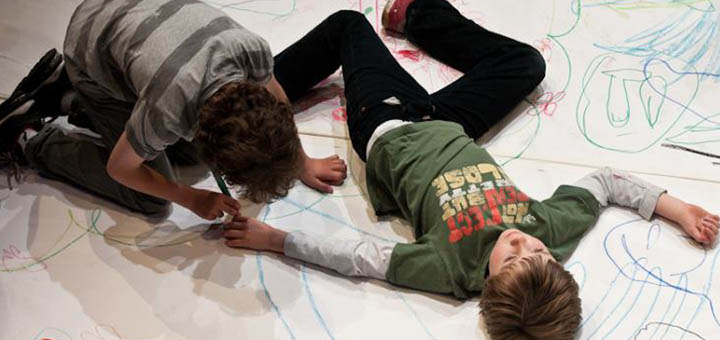 Grab a pen and kick off your shoes for this fun playful interactive show that will get the whole family drawing, and dancing, doodling and story-telling together. At the Doodle Dance Show you'll help turn a giant piece of paper into a delightfully anarchic world populated by crazy birds, dancing pirates, and a man who speaks in bubbles.
Join award-winning performers Anna Williams (Russell Maliphant, La Ribot) and Tom Roden (New Art Club) for this inventive show that asks can you dance a scribble, or draw sneeze?
To find out how this World Premiere show was created, click here
When: Saturday 7th February at 11am, 1.30pm & 4pm
Where: Greenwich Dance
Age: 3+
Cost: Full price £8 with concessions £6, party of four £20
LittleBird Top Tip: You're a stones throw from Greenwich Market, Cutty Sark and the Greenwich Foot Tunnel – the tunnel is 1,217 feet long and runs about 50 feet under the River Thames! Walk through and you end up on the Isle of Dogs.
LSO DISCOVERY FAMILY CONCERT VIVA ESPANA! AT THE BARBICAN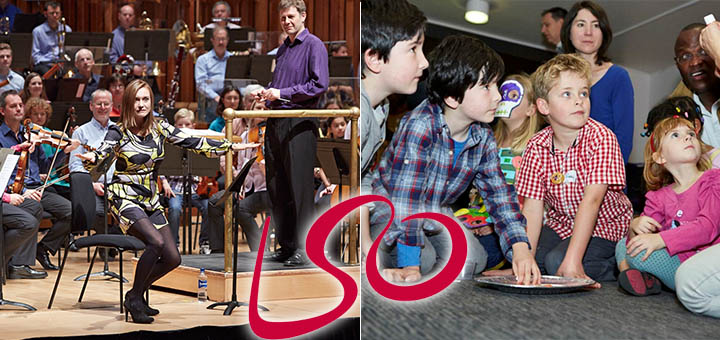 Enjoy this LSO family concert Viva Espana! at the Barbican.  This Sunday LSO are throwing a fiesta to have fun with all things Spanish. Bring your castanets and hear classic tunes from Bizet's Sevillian opera Carmen, de Falla's El sombrero de tres picos (that's 'Three Cornered Hat' to you and me) and Rimsky-Korsakov's glittering Cappricio Espagnol. Plus a new participation piece by presenter Rachel Leach – but will she have brought her flamenco outfit?
Before the concert, there will be art and music workshops and the opportunity to meet LSO players and practise the audience participation piece. There is also a creche for younger siblings – visit lso.co.uk/bringyourfamily for complete details.
When: Sunday 8th February, 2.30pm
Where: The Barbican, EC2Y 8DS
Age: 7 – 12 year olds
Cost: Adults £10, under 18s £5
LittleBird Top Tip: With an array of restaurant, cafes and bars at The Barbican,  go early for a bite to eat before the concert. The Foodhall (Level G) offers a cafe serving hot drinks, mouth-watering international food from a counter-top service plus  delicious cakes, all in a casual dining setting surrounded by the stunning 'jar-delier' light installation.
BUBBLE WRITING WORKSHOP AT OTTIE & THE BEA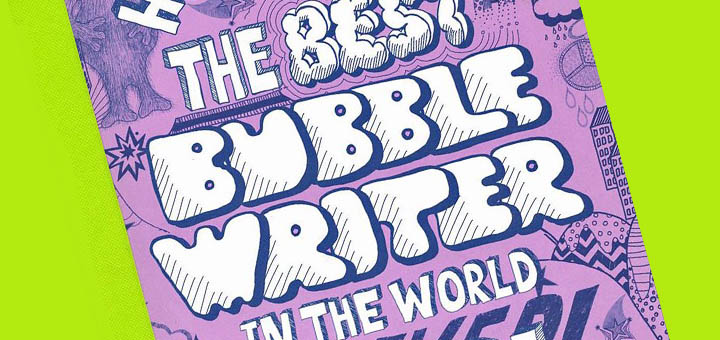 Kids love Bubble writing? Wish they could? Then head to the wonderful shop Ottie and the Bea this Sunday and meet the wonderful Linda Scott, author of 'How to be the best bubble writer in the world' and book a place for this fun Bubble Writing Workshop and learn how! Linda Scott is a successful London-based illustrator and printed textile designer and will be running the session. .Her books How to be the Best Bubble Writer in the World Ever! and My Monster Bubble Writer Book will be on sale with a special discount available on the day for those people attending this workshop.
When: Sunday 8th February, 11am – 12pm
Where: Ottie and the Bea, SE3 7BT
Age: Families
Cost: £5
LittleBird's Top Tip:  If you have a kite, bring it along,  as you're a 10 minute walk from Blackheath and on a windy day the heath sky looks like a  multi coloured fountain.
Make  a day of it? Once on Blackheath, Greenwich Park will be in your sights; home to many wonderful museums including The Royal Observatory, The Maritime Museum and The Queen's House.
PUSS IN BOOTS AT THE ALBANY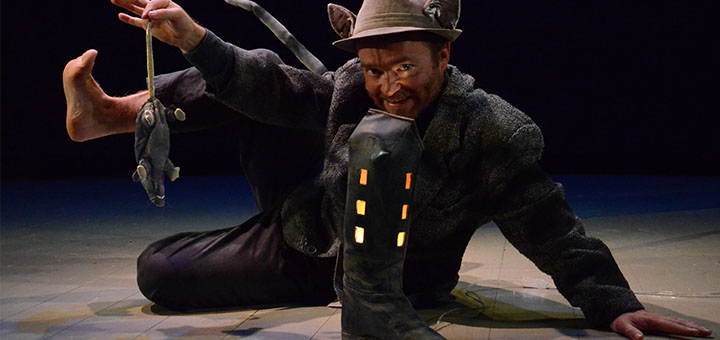 Would you trust a talking cat? You never know, he might turn you from a pauper to a prince just like the hero of this story, brought to vivid life on an incredible sloping stage by Patrick Lynch from Cbeebies. Enjoy this classic tale at The Albany this Sunday.
With smoke and mirrors and hidden trapdoors you'll be shown  how this sure-footed feline fools both the King and the Ogre to put his master at the top. With a host of puppets, a working windmill and an avalanche of fruit and nuts – make time this Sunday for this classic furry tail!
When: Sunday 8th February at 1pm & 3pm
Where: The Albany, SE8 4AG
Age: 4+
Cost: Tickets £7 with a family ticket for £24
LittleBird's Top Tip: Depending on the show time, you can enjoy a late lunch or an early tea at The Big Red Pizza Bus not far from The Albany – they show free films to at the weekend!
BENGAL TO BETHNAL GREEN AT RICH MIX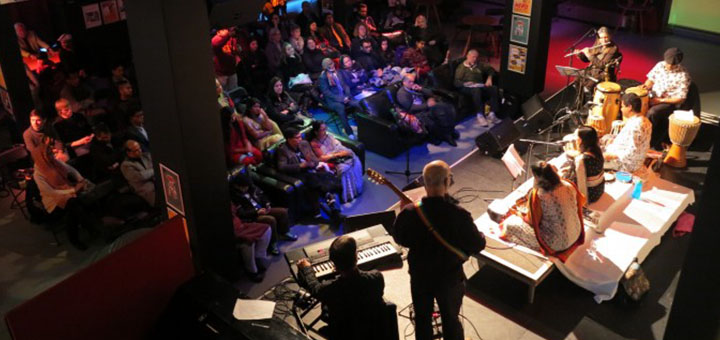 Enjoy your  Sunday afternoon at this free concert celebrating Bengali music and the arts in East London. This monthly series of concerts featuring much-loved singers and musicians from the Grand Union Orchestra is directed by international tabla star Yousuf Ali Khan. The music is based on Bengali songs, both in traditional form and combined with contemporary styles reflecting the wide variety of music in London's East End today.
Musicians from the Grand Union Orchestra regularly visit Bangladesh and work with local musicians; one of these visits can be seen in this fascinating documentary:  http://vimeo.com/16830270
Rich Mix is family friendly equipped with full pram access, baby change facilities, lifts to all floors plus a relaxing mezzanine perfect for family lunches, and a cafe on site.
When: Sunday 8th February at 3.30pm
Where: Rich Mix, E1 6LA
Age: Families
Cost: Free
LittleBird Top Tip: If you're child is over 12, then go in the morning and join the  Grand Union Youth Orchestra Free Workshop Programme running from 10am – 1.30pm. Led by professional jazz and world-musicians from the renowned Grand Union Orchestra, this unique ensemble offers members the opportunity to take part in high-profile performances, work alongside leading professional musicians, learn about world music first hand  from experts  and discover new instruments and develop improvisation skills.