Stocking Fillers & Stuffers Great Ideas Under £5, Under £10, Under £15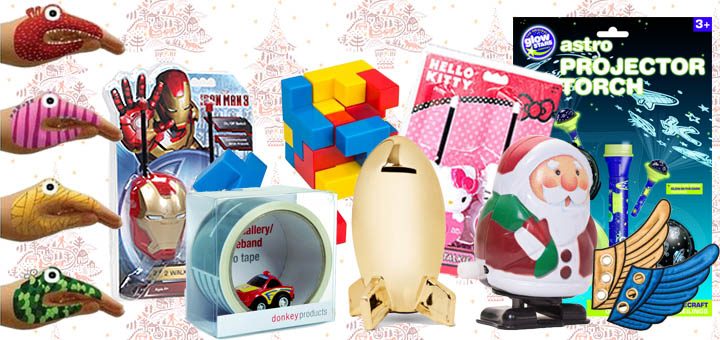 UNDER A FIVER 
Father Christmas Clockwork Tin Toy (£4) Simple fun with the main man himself – a lovely little gift Santa might leave behind as a keep sake (think the bell in Polar Express!) when he's filled that stocking 😉 For unusual presents, the V & A online shop has a wonderful array of great gift ideas. If you spend more than£40, they offer free delivery too.
Money Bank Rocket  (£4) A fun way for the kids to look after and save their Christmas money. You can't shop online for these so you'll have to find the nearest Tiger shop to you. If you've never been to Tiger, you're in for a treat – you'll find stocking fillers in abundance; it's a wonderful treasure trove!
Monster hand tattoos Growl, roar, squeak – what noise does your monster make? What story will it tell? Simple creative fun for little hands with big imaginations. For more ideas, check out Tate Shop  online for an eclectic mix of gifts and books.
UNDER A TENNER 
Anisnap fun snap watches (£7.49) Never ending fun snapping on and off – they won't even notice they have learnt to tell the time! Head to LittleBird for more ideas and savings this Christmas.
Wing Kicks (£9.95) Give your footwear super powers!  Find more gorgeous stocking fillers at Bambino Goodies
Astro Projector Torch (£8) For stargazers and lovers of things that glow – this torch does both. Enjoy an extra 10% off when you spend over £60 with LittleBird's member benefits – get your code here
UNDER FIFTEEN 
My First Railway Tape (£14.50) – let the kids go Choo choo anywhere! For more ideas, head to over to Not On The High Street
Walkie Talkies (£12.95) Great for imaginative play and top-secret conversations – roger that, over and out. Head to LittleBird for more ideas and savings this Christmas.
Bedlam Game (£11.95) Brings out the competitor in anyone who plays  – maths and logic skills honed, determination and concentration required. Enjoy Handpicked Collection.