Festive Recipes – Christmas Bauble Biscuits
We've asked some of our foodie friends their best festive recipes!
Our friends over at the Biscuiteers have a fantastically festive Christmas Bauble Biscuit recipe!
If you're anything like us, you'll already have your tree up, your presents wrapped and the mulled wine brewing. Christmas is our favourite time of year! To spread the festive spirit, we would love to share this super-Christmassy biscuit recipe with you. Plus some exclusive icing tips straight from The Biscuiteers Book of Iced Biscuits!  They make a perfect treat for those unexpected guests, we love to hang them on the Christmas tree or a silver-sprayed branch in a vase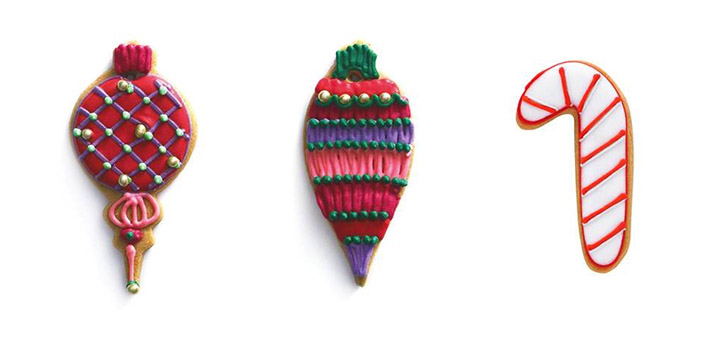 To make 24 Orange and Cinnamon biscuits, you'll need –
350g plain flour
100g self-raising flour
125g granulated sugar
125g salted butter, diced
125g golden syrup
1 large egg, lightly beaten
Grated zest of 2 oranges
½ tablespoon of cinnamon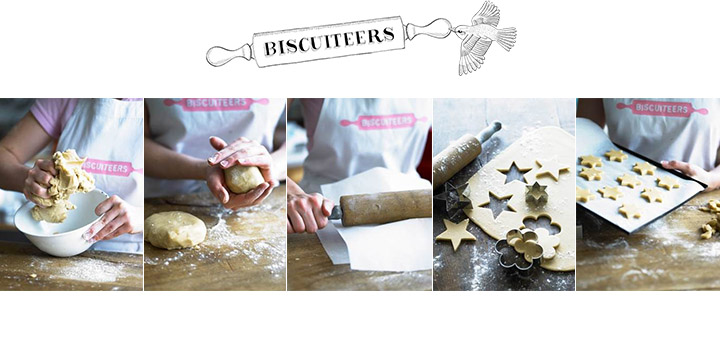 Then follow these steps –
*  Preheat the oven to 170c/350f/gas mark 4 before you begin making your biscuits.
* Sift the flours together into a mixing bowl; add the sugar, cinnamon and orange zest. Mix well.
* Add the butter. Using just the tips of your fingers, rub together the ingredients until the mixture resembles  fine breadcrumbs.
* When all the butter is evenly mixed in, make a well in the centre and add the syrup and the egg.
* Mix well, drawing in any of the flour left at the sides of the bowl and stop as soon as a ball has formed.
* Place the dough onto your clean worktop. Divide into two and squash the dough into two even-sized flat discs. Cover and chill until ready to use, or roll out immediately.
* Place the dough on a sheet of parchment and begin by gently squashing the dough down with a rolling pin or your hands. Cover with a second sheet of parchment and then use the rolling pin to roll out properly
* The top sheet of paper may crinkle from time to time, just peel it off and smooth it down gently before starting to roll again.
* Gently roll the dough until it is 5mm thick all over, then transfer the whole sheet of rolled dough still sandwiched between its sheets of parchment to a baking tray and place in the fridge to chill forat least 20 – 30 minutes before cutting.
* Christmas themed cutters are widely available online, or you can choose to make your own. To do this, identify the shape you want to trace and lay a sheet of parchment on top, carefully tracing around the shape.  Remember that you can ice on much more detail than needs to be reflected in the shape of the biscuit. Carefully cut the templates out with scissors.
* To use the dough efficiently cut the biscuits out as close together as possible. Lift each biscuit onto the parchment covered baking tray and make sure they are not too close together as the dough will spread a little on baking. Any trimmings can be re-rolled a couple of times.
* If you're planning to hang the biscuits on your tree, remember to make holes in the biscuits! This is best done with a cocktail stick.
* Evenly space the trays in the oven and cook for 14-18 minutes, depending on your oven.
* When the biscuits are evenly cooked and just beginning to turn a golden colour remove the trays from the oven and transfer the whole sheet of parchment to a cooling rack. Do this carefully as they will be quite fragile and hot!
* Cool totally before starting to ice.
Now the icing can begin!
Top tips to keep in mind before you start –
1. Cut your piping bag straight across to achieve a clean icing line.
2. Always use a clean piping bag, so that your icing colours stay lovely.
3. We use two basic types of royal icing at Biscuiteers – a thick, smooth paste for piping details and edging (line) and a runnier glossy mixture for flooding larger areas (flood).
4. Practice your icing techniques on a parchment sheet before starting on your biscuits.
5. When filling areas with runny icing, use a sharp cocktail stick to burst any bubbles. This will help achieve a smooth and luxurious finish.
6. We love vibrant coloured stripes and spots, which are quite easy to achieve. Once the flood icing is completely dry, use the thick line icing to carefully add the detail on top.
7. If you want the detail to sink into the flood icing, much like our polka dot hearts, add this whilst the flood icing is still wet.
8. Stock up on lots of baubles and sugar glitter to finish off your biscuits with some pizazz! Do remember though that sugar glitter will stick better to super wet icing (it dries pretty fast!)
Trellis bauble – Outline the bauble in parma violet line icing, add pink tine tassel and fuchia detail around the ribbon hole. When dry, flood the circle with res and wait for a minute to let it set. Pipe the criss-cross pattern in parma violet line. Add the dots of lime green line icing and the little golden baubles to decorate.
Teardrop bauble – This is all iced in line icing. Separating each band with a green stripe, ice all the way down in coloured bands in a zig-zag pattern. Drop gold and silver balls onto the decoration whilst the icing is still wet.
Candy cane –  Pipe around the outline and the hole in pink line icing and allow to completely dry. Floord with white runny icing, remove any air bubbles with a cocktail stick and leave to set. Ice the candy striped in alternate colours in line.