'Forget Christmas, I want one now!'
Yes I know, to even mention Christmas may seem as if we have gone absolutely bonkers – we haven't even broken up for the summer holidays yet! But this, I promise you, is worth mentioning Christmas for.
After a morning spent with our friends at Waitrose Christmas event tasting an array of festive goodies (lucky me!) – I left with one thing on my mind; I know where I can get one, I just don't know when….
Do you remember the Viennetta adverts? The restless hands of the dinner party guests around the table, the anticipation of who will get the extra last slice, the plates all being raised in a hope that they were the lucky one – remember?
Well this pud – quite frankly – will be lucky if it makes it out of the kitchen and onto the dinner table! What is it? It's Heston from Waitrose Ultimate Chocolate Bar Dessert.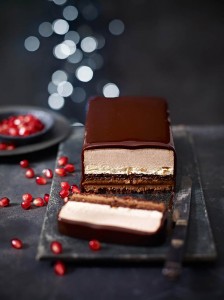 I am not even a pudding person (give me a pack of Monster Munch any day!) but even this got me googling when I can actually get my hands on this Chocolate Bar  – forget Christmas, I want one now!
Made out of Heston's favorite childhood chocolate bars (Kit Kat, Mars Bars, Milky Way) this multi tiered creation features layers of chocolate caramel mousse, crunchy chocolate biscuit, gooey salted caramel and nougat mousse, all transformed into, quite simply, heaven! And the Willie Wonka-esque packaging gives it that Veruca '"I want it now!" Salt appeal.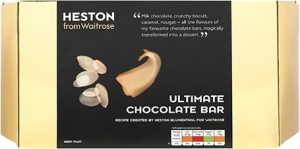 The other reason I am soooooo excited and effervescing about this festive pud is the price – £9.99. For a treat to share with family and friends over Christmas and the New Year (you might want to buy at least two) – I think it is great value! Scoffing it in the kitchen on your own might make it a pricey indulgence  – but I'll try and be good!
Yes, Heston seems to have done it again this year but there are other puddings that must be mentioned as great family sharing desserts, easy on the pocket, and that the kids can get involved with.
Waitrose Chocolate and Chestnut Eton Mess (£5.99) with the top layer of meringue whole and separate – ready to be smashed and mashed by little (or big!) hands as well as the Waitrose Snowman Cheesecake (£4.99) – complete with a sachet of coloured chocolate beans the kids can either use to decorate and give the snowman a personality, scoff before you've even got the cheesecake out or use as bartering for that last slice of Ultimate Chocolate Bar Dessert….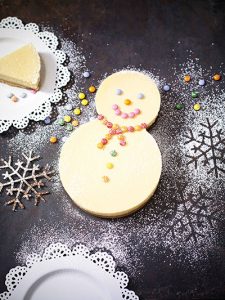 Although we have to wait until the 12th December for The Snowman Cheesecake and Eton Mess to be available to buy – the star of the show is thankfully available 20th October – I feel a Veruca Salt moment coming on…..