Spring has finally sprung, and what better way to refresh those taste buds with a Spring Sweetcorn Fritter from our friends at Junior's Pantry and Jenny from The Lunchbox Doctor!
This recipe is sure to be an all round pleaser for both the little one's and the big one's too!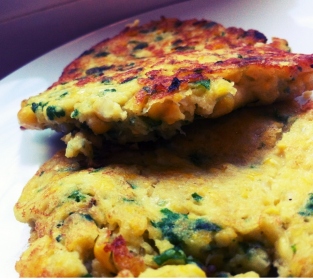 What you will need:
2 tablespoons of Coriander
2 Eggs
3 tablespoons of Natural Yoghurt
60g /2oz of Easy-cook Polenta
1 large tin of sweetcorn
2-3 tablespoons of Olive Oil
What you do:
Put the coriander into your food processor and chop. Scrape down the sides.
Add the sweetcorn and chop to mix thoroughly with the coriander.
Add all the other ingredients except the olive oil. Mix on a low speed  until all the ingredients have combined.
Heat the oil in a frying pan.
Drop spoonful's of the mixture into the oil and fry for about 5 minutes, turning once, until golden brown on both sides.
Top Tip – You can use heat-proof shapes (like the ones you use to fry eggs in – they come in various fun shapes!)
For more tasty recipes visit the Juniors Pantry website.
Jenny from the Lunchbox Doctor provided this recipe. The Lunchbox Doctor provides helpful and healthful advice for parents wishing to pack a healthier lunchbox for their children. She has written a new book 'Not Just Sandwiches – 5 Ways to improve your Child's Lunchbox' which is now available on Amazon.