Top Winter Travel Tips from Ruby and Ginger – For Families on the Move.
Brrrr, it's cold outside. So our friends over at Ruby and Ginger, inventors of the much loved Nappy Purse and Cosy Car Seat cover among others, have given us some very important Car seat travel tips for safety in the winter months when winter coats are so enormous, they can end up compromising your child's safety in their car seat.
As temperatures plummet, parents everywhere will be placing their babies and children in winter coats and snow suits to keep them warm whilst travelling in the car.  Unfortunately, not many parents know that car seat manufacturers recommend that snow suits and thick winter coats are not used whilst travelling in the car.
These winter essentials can seriously compromise a child's car seat safety, as they do not allow you to fasten the safety straps correctly. In an accident the air compresses out of the bulky clothing, meaning the straps become loose. When this happens, a baby or child can be ejected from their car seat. A car seat can only be effective when the straps fit tight against your child's chest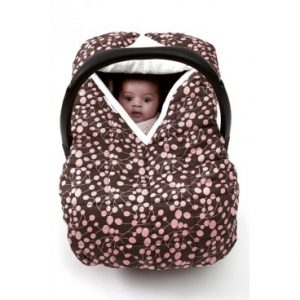 Keep Your Little One Snug and Protected       
To keep toddlers safe and warm in the car, take the child's coat off before fastening them into the car seat. Once the harnesses are secure, put the child's coat on backwards over their arms, this keeps them warm without compromising safety.
To protect babies, Ruby and GINGER have designed an innovative product that allows you keep your baby snug and protected in winter, without compromising their car seat safety.
(The Original Cosy Car Seat's design, makes it an ultra-safe way to keep babies snug and warm in winter. The 3+ tog rated elasticated cover fits over the car seat, allowing you to correctly tighten the safety harness. The cover can be removed in seconds without waking baby, whilst the v shaped window allows mum to view baby at all times. The Cosy Cover is, compatible with all standard group 0 car seats and comes in a choice of 3 unique fabrics.
To check if your child's winter coat is unsafe for car travel, carry out the safety check below:
Car Seat Safety Check
It's really easy to check if your baby's winter coat or infant snowsuit is too thick to be safe in a car seat. The below test will show you how much the coat will compress during a crash.
Remove the car seat and carry out the safety check inside the house.
Dress your child in their winter coat or snowsuit.
Place your child in the car seat and fasten the safety straps. Tighten the harness to fit your child.
Remove your child from the seat without changing the or loosening the straps .
Remove the snowsuit or coat from your child.
Place your child back in their seat and fasten the safety traps but do not tighten them.
Your child's winter coat is too thick and not safe to use in the care if you can fit more than two fingers under the straps.
Thanks Ruby & Ginger for sharing this important information with us, we really appreciate all your advice. To check out their lovely products go to http://www.rubyandginger.co.uk/